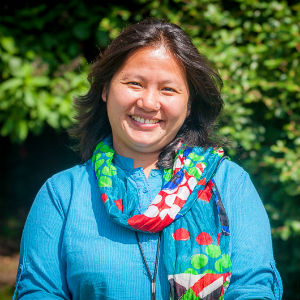 Aspiring peacebuilder Sujan Rai arrived at the Summer Peacebuilding Institute a week late; she almost didn't make it to Eastern Mennonite University at all. The delay: two massive earthquakes that hit her city of Kathmandu, Nepal in April.
Rai and her family were among the lucky few who experienced no loss of life or property damage. Still, leaving her husband and young son in a city rocked by aftershocks to attend SPI was difficult. The quakes have also complicated an already explosive Nepalese political situation by causing the delay of peace talks that the organization she works for, Nepal Transition to Peace Institute (NTTP), is facilitating.
But despite the sacrifices, Rai, who has worked at NTTP for three years, came ready to learn. A recipient of the Winston Fellowship for new peacebuilders, she took classes at SPI to prepare for a new role as program officer when she returns — a role that she hopes will provide opportunities to strengthen her homeland and her family.
"I want to be able to go home and give back to my family for their sacrifice of sending me here," she said.
Conflict fueled by equal rights movement
When Rai was born in 1981, Nepal was still a monarchy. Nine years later, the popular King Birendra, only the 11th king in Nepalese history, agreed to the limited powers of a constitutional monarch. In 1996, the Communist Party of Nepal (Maoist) started violently vying for political control – the beginning of a deadly decade-long civil war between the communists and the ruling monarchy.
"The Maoist fight started in search of equal rights for everyone," Rai says. The one positive to ongoing political instability was that "people are now very aware of traditional caste distinctions and want equal access to rights such as clean drinking water, education and social mobility."
The key now, she says, is helping Nepal to stabilize by developing and passing a constitution. That's part of what the NTTP Institute is helping to do though the facilitation of non-partisan dialogue between the major Nepalese political parties to reach consensus on political and social issues, she says.
Despite their efforts, however, the Nepalese government has already missed a self-imposed January 2015 deadline to produce the document. Three months after the missed deadline, massive earthquakes rocked the already stressed country.
Returning to war 'among, between and around us'
Rai turned 15 around the time Maoists were beginning to challenge the ruling party in Nepal. In 1996, she moved to India alone to finish secondary school and an undergraduate degree in the social sciences. (She later received a master's degree in sociology from a Nepalese university).
She came back in 2001 to a country deep in the midst of civil war. In the midst of this conflict, King Birendra and most of the royal family were killed during the 2001 palace massacre by the crown prince (the sole surviving son, Gyanendra Shah, was deeply unpopular as a king and the monarchy was dissolved as a concession to Maoist rebels in 2008).
The war left an estimated 16,000 people dead and crippled the already impoverished Nepali economy.
"The fight was among, between and around us," she says. "It had a big impact on the people." She says the biggest impact was shattering the traditional caste system. "Even women began to advocate for their rights. It was amazing the transformation that could emerge once people realized they had a voice."
In India, and during her first few years back in Nepal, she worked as a behavioral counselor for youth, experiences that taught her "how important it is to restore justice and mediate between the victims and the offenders for transforming conflict to peace."
Dialogues gain traction
"The effectiveness of the forum was huge," she says, explaining that when NTTP first started the politicians from different political parties wouldn't even look at each other. "Now they are willingly coming to the table and agreeing to disagree or working out their conflict."Two years after Rai returned, the Nepalese government requested assistance from the United States Agency for International Development (USAID) to create a forum for non-partisan dialogue between the various Nepalese political parties and the Communist Party of Nepal. In 2005, the Nepal Transition to Peace Forum was launched.
Rai joined NTTP Forum in 2011 as a program associate, working in logistics and program design.
Policy discussions focus on "1.5 Track Dialogue" which emphasizes an intermediary strategy: the number 1.5 symbolizes the often-powerful politicians who are subordinate to a higher-level politician (level 1), but still have direct contact with activists (level 2).
In July of 2014, USAID began a six-month phase-out leading up to the drafting of a new constitution. NTTP Institute is now an independent Nepali-run institute.
SPI training helps to prepare Rai for new role
During her first three years at NTTP, Rai says she has learned that conflict, when managed well, can be powerfully transformative.
"Conflict gives people a way to express their opinions," she said. "It's the other things, war, killing of innocents, hunger, that come along with many conflicts that are bad. But what I've learned is that peace isn't about the lack of differences, it's about respecting the differences that exist."
After three years in an administrative position, Rai looks forward to playing a more active role that makes a tangible impact.
With the support of her mentor, deputy executive director Sajana Maharjan, she moves into a new role as program officer upon her return to Nepal. (Maharian studied at the Kroc Institute for International Peace Studies, the current academic home of Mennonite peacebuilder John Paul Lederach, co-founding director of the Center for Justice and Peacebuilding).
Rai says her SPI coursework will prepare her for the new role.
"Our vision is to have a peaceful and just place for people to live in. We strive to move towards achieving a place where everyone has equal rights and a dignified life," she says. "My hope is that my work in some small way makes a difference in achieving this goal."