Since the Gateway opened in 2011, there has been intense lobbying to bring the country duo Wilson Fairchild to the venue.  This fall, Clair Myers, WTA's Executive Director told the Wilson Fairchild fans,  "I am happy to report that we finally managed to book Wil Reid and Langdon Reid for 8 pm on Friday, January 31."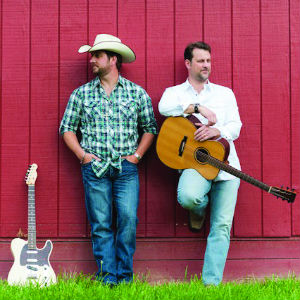 With that news their fans and those of their fathers, Harold and Don, two of the famous Statler Brothers, will have their chance to sit back and hear an outstanding pair of musicians play an evening of acoustic music in the best, most comfortable intimate music venue in the Valley. 
The duo have been writing, performing and playing music together their whole lives. Their passion and drive for their music is best summed up by a line from their song Country On: "We love country music and we'll never let it die."   The "Reid boys" are highly acclaimed songwriters. Their compositions have been recorded by a diverse group of artists including the Statler Brothers, Ricky Skaggs and Dailey & Vincent.
Obviously their songwriting gamut spans the full range from country and bluegrass to gospel.  Since they learned the craft from the best, they know how to put an idea to music and create a great storytelling song.  Wil and Langdon are also outstanding instrumentalists, playing guitars and an array of other instruments when necessary. Their engaging personalities coupled with their musical talent and impromptu wit is a perfect match for any audience.
As one critic said, "Once you hear their music, you are a fan. Once you see them in concert, you are a bigger fan. And once you get the chance to meet them, you are a friend for life." The January 31 acoustic performance at WTA's Gateway is a chance to prove the critic correct, and WTA's Gateway is an ideal venue in which to make that discovery.
The 8 pm performance is at the Gateway, 329 West Main in Downtown Waynesboro.
Tickets may be purchased online at www.wtagateway.com or by calling the box office at 540-943-9999.  Advanced tickets are $10.  Remaining tickets are available at the door on the night of the performance for $12.
Seating is limited.  Advance reservations suggested.