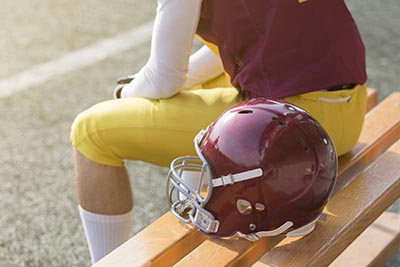 A concussion isn't a knee injury or shoulder injury, in that it's not always immediately obvious, and that the tendency among athletes, historically, has been to try to play through it.
Playing through a concussion, though, we now know, can have long-term consequences, one being chronic traumatic encephalopathy – more widely known by the acronym CTE, a degenerative brain disease that researchers are only starting to get a handle on.
As participation in youth sports, most notably football, is on the decline, in large part due to fears of the CTE unknown, a University of Virginia professor tells us that following basic concussion protocols can allow for a safe return to play for athletes of all ages.
"I think it's a matter developing a culture where if someone sees a hit that might be associated with the injury to report it, but also someone's on the sideline and is complaining of a headache after an injury, to get them referred to the appropriate healthcare provider, like an athletic trainer, as the clinical examination remains our gold standard for the diagnosis of concussion," said Jacob Resch, an associate professor in the Department of Kinesiology at the University of Virginia and a researcher in the UVA Brain Injury and Sport Concussion Institute.
Resch is also a certified athletic trainer who has written extensively on sports-related concussions, including the effectiveness of testing methods and the differences in recovery time between female and male athletes.
He was drawn to the field of study because of his own concussion history as a young athlete. His focus now on developing better ways to diagnose concussions in order to remove athletes from play and then to make safe return-to-play decisions.
"We firmly believe that the athletes are removed from play following an injury, managed appropriately by the appropriate healthcare providers, they are more likely going to make a safe return to play," Resch said.
It's not just the big hit
When you think concussions and sports, you're thinking, wide receiver across the middle, taking a bone-jarring hit from a safety.
It's not just the big hit, though.
"Just because an athlete endures a jarring hit doesn't mean they're going to have a concussion. Likewise, you can have an individual taking what seems to be insignificant hit have a concussion," Resch said.
As a result, concussions are one of the more ambiguous injuries that athletic trainers have to manage.
A concussion could present right away, or it could be more subtle – dizziness, a light headache.
And some athletes don't have symptoms until the next day, which further complicates treatment.
"There are a variety of tools that we have researched to supplement the examination of concussion, regardless if it's a more straightforward or subtle injury," Resch said.
The subtle injuries are the harder ones to have to deal with.
"Those individuals that maybe have a headache after a head-to-head hit, or might be a little bit dizzy, that keep themselves in play, because they don't understand the severity of the injury, they don't want to appear weak, they don't want to let their coaches or team down, or they simply just don't want to miss playing time, those are the individuals we need to better do a better job of educating, but also developing better ways to detect the injuries."
Treatment approach
Every year, the medical and training team at UVA conducts baseline tests for roughly 250 to 300 new student-athletes, using measures of cognition, neurocognition, balance symptoms, mood, sleep and now more recently, visual assessments, all to gain a picture of the athlete in a healthy state.
Following an injury, the team uses that data to look at what deficits actually exist.
Resch laid out the treatment approach.
"Following an injury to an athlete, our research team is notified by the athlete's respective athletic trainer for their sport, and we begin the post-injury assessment protocol, which typically occurs within two days of the injury," Resch said.
The majority of individuals suffering a concussion recover within 14 days of injury, Resch said, but around 10 to 20 percent of individuals may experience persisting symptoms that require continued medical care.
"How we treat that individual and making sure that we're surrounding them, regardless of the time of recovery, is so important," Resch said. "Making sure that they'll understand that they will get better over time opposed to, unfortunately, being caught up in media attention that has painted a negative light on concussions. "
After an athlete reports being symptom-free, the medical and training team conducts another assessment as part of the stepwise return to play protocol.
"The last piece is after approximately six months, we ask athletes to come back to establish new baseline values," Resch said.
The baseline testing allows for specialized care, recognizing an important fact regarding concussions, that being, no two concussions are alike.
"It's so important that we take a measured approach, and look at the research and provide the best medical care that we can right now, in order to ensure athletes return safely to field," Resch said.
The specter of CTE
There is greater public awareness of the dangers of sports-related concussions with the still nascent research into CTE, a degenerative brain disease linked to dementia that can lead to dramatic changes in mood, behavior and cognition, and is incurable, and currently can only be diagnosed post-mortem.
Evidence of CTE has been found posthumously in nearly 1,000 athletes from football, soccer, rugby, ice hockey, lacrosse, wrestling, boxing and MMA, and a new analysis released last week has found a causal link between repetitive head impacts and CTE for the first time, and that contact sport athletes are 68 times more likely to develop CTE than those who did not play contact sports.
"Sport governing bodies should acknowledge that head impacts cause CTE and they should not mislead the public on CTE causation while athletes die, and families are destroyed, by this terrible disease," said Dr. Chris Nowinski, the lead author of the analysis, a former professional wrestler and Harvard football player, and now the CEO of the Concussion Legacy Foundation.
CTE was discovered in 2005 in the autopsy of NFL Hall of Fame center Mike Webster, who had died in 2002 after years of decline.
Football is bearing the brunt of the focus of attention on CTE, particularly at the youth and high school levels, with more and more parents opting out of letting their children play the sport.
Youth participation in football is at a 20-year low, and has declined more than 32 percent since hitting a high-water mark in 2008, roughly coinciding with the early media reporting on CTE research.
Youth participation in combat sports, wrestling and boxing, has also dropped sharply since 2008, though soccer, which presents its own set of possible issues with headers having been found to be linked to concussions, has been steadily increasing.
Resch points to the dangers of a world in which we take youth sports away because of these concerns.
"The more negative outcome is, let's say we take sports like football away, let's say we take soccer away, let's say we take rugby or hockey away. What are we going to replace that sport with in order to avoid a sedentary lifestyle with our children, which opens up the door for cardiovascular disease and conditions like type 2 diabetes? I think sport is so important that we need to find ways to make it safer for our youth and adults to play. We will continue to see sport evolve into a safer activity to promote health and wellbeing," Resch said.
"A lot of people ask, would I let my son play football? And I would say, yes, I would, as long as, if there are symptoms related with a hit, that they're reporting to their athletic trainer or to us as parents," Resch said.
"We want to create a culture of honesty, to make them realize it's OK to be injured, just let us know. So, I think the culture around football has shifted from where it was to what it is now with a greater acknowledge of the injury. But also, the rules and the policies around football have also changed in order to make the sport safer."
Football and other sports are being made safer, and doctors and trainers are learning more about how to treat concussions.
The response is moving in the right direction, basically.
"Now, concussions are a brain injury, and they should be treated with the utmost respect," Resch said. "On the flip side, the majority of individuals are going to get better. They're going to have a recovery back to where they were prior to their injury."