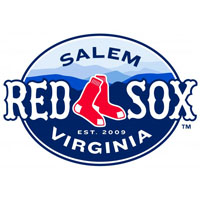 The Salem Red Sox beat the Carolina Mudcats 5-1 at LewisGale Field Wednesday night. After a 1-5 road trip to start the second half, it was a welcome return home for Salem, now 6-2 at home in June. Corey Littrell was great in the victory. Littrell got his first win since May 16th, allowing just a run on seven hits in six innings of work. Adam Plutko was the tough luck loser, surrendering two runs on only two hits in five innings.
The Mudcats had chances in the first three innings, finally scoring one in the third. Luigi Rodriguez led off the third with a double off of Littrell. After a walk and an out, the Mudcats had first and second with one out. A double steal by Rodriguez and Yhoxian Medina was the key play of the inning, turning off the double play ball. A grounder in the hole between short and third by Erik Gonzalez was enough to reach first on a fielders choice and get the Cats lone run of the game.
The game held 1-0 until the fifth. The Sox had just one hit and two base runners through the first four frames. But a lead off walk to Aneury Tavarez got the inning started. After a sacrifice bunt by Kevin Heller and a fly out by Ryan Dent, Jordan Weems hit a lone shot the opposite way down the left field line that rattled off the foul pole for his first professional home run to give the Sox the lead for good.
Salem added its second homer in the sixth. After a one out double by Jantzen Witte, Mario Martinez crushed his sixth homer of the season to give the Sox a 4-1 lead.
Salem added an insurance run in the bottom of the eight. Reed Gragnani scored from third on a double play grounder hit by Martinez. Nate Reed and Dayan Diaz combined for three shutout innings allowing just one hit to preserve the win.
Salem is now 6-2 at home in June, opposite a 2-11 record away from Roanoke Valley in the month. Salem and Carolina play game two of this series tomorrow night at 7:05. Joe Gunkel makes his LewisGale Field debut for the Red Sox and Shawn Morimando gets the ball for the Mudcats.