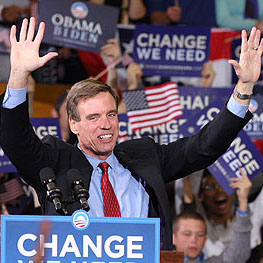 U.S. Sens. Mark R. Warner (D-VA) and Tom Coburn (R-OK) introduced a bill today that would require the Office of Management and Budget to reduce at least $5 billion in federal spending by eliminating, consolidating, or streamlining government programs and agencies with duplicative and overlapping missions.
The proposal reinforces the need for Congress to take immediate action to save taxpayer dollars by focusing on those programs identified as wasteful or duplicative in a recent U.S. Government Accountability Office report.
On April 6, 2011, the Senate accepted, by a vote of 64-36, identical language offered as an amendment (#273) by Sens. Warner and Coburn. The underlying legislation, however, has been pulled from Senate consideration, prompting Senators Warner and Coburn to reintroduce their proposal today as stand-alone legislation. The legislation requires OMB to identify and report to Congress any legislative changes required to further eliminate, consolidate, or streamline government programs and agencies with duplicative and overlapping missions.
"While $5 billion admittedly is 'small ball' when compared to this year's $1.6 trillion deficit and our $14 trillion debt, this represents a solid beginning. It shows we will explore every opportunity to cut costs and save taxpayer money," Sen. Warner said. "The March 1st GAO report identified 34 policy areas with overlapping or duplicative activities, and this legislation takes meaningful initial steps to save at least $5 billion in wasteful federal spending."
"If the Senate would simply spend the time debating spending cuts and take immediate action to save taxpayers $5 billion, we could make great strides toward reducing our debt and possibly avoid budget standoffs," Dr. Coburn said. "Many senators on both sides of the aisle understand the seriousness of our debt threat and are willing to go through the budget program by program to identify cuts. The best way to cut spending is to make hard choices and set priorities," Dr. Coburn said.