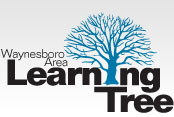 Edited by Chris Graham
[email protected]
 
A new nonprofit is bringing technology to local learners.
The Waynesboro Area Learning Tree was founded in 2009 as an outreach initiative providing technology training and development to the City of Waynesboro and surrounding rural counties. Founder Janet Awkard-Harvey is reestablishing her Nelson County roots by giving back to the community through WALT.
WALT provides transitional education, career exploration, computer training, e-learning and work-life skills development. WALT anticipates launching its first neighborhood computer network center, often referred to as a public computer center, at 421 W. Main St. in Downtown Waynesboro this summer. When you arrive at the center, you will soon find a computer lab for participants, a classroom for specific training courses, and the principal office for WALT.
As the organization grows, WALT will take learning to new heights with a mobile computer unit concept. These mobile units will travel to specific areas and provide onsite training and computer access.
"Today's workers must be comfortable with technology to succeed in the 21st Century," says Awkard-Harvey. "It is WALT's vision to provide them with the hands-on skills they need, regardless of their location or economic status."
WALT's vision is already having a positive impact on the local community and has caught the attention of several local businesses like LBP Enterprise Inc., nTelos, Clutter Conversions, and Mountain Laurel Studios, who have become sponsors through the provision of support and services. A group of interested volunteers attended WALT's first volunteer meeting in mid-June.
The next volunteer meeting will be held on Thursday, July 15, 2010, at the Residence Inn Marriott in Waynesboro at 6:30 p.m.
If you would like to get involved at the computer center or contribute time, training expertise, resources, or funding, please contact Janet Awkard-Harvey at (540) 470-8253 or visit the website at www.waltlearning.org.
Monetary donations are accepted online 24/7, and resources like computers, software, furniture and office supplies are accepted by appointment at their Main Street location.