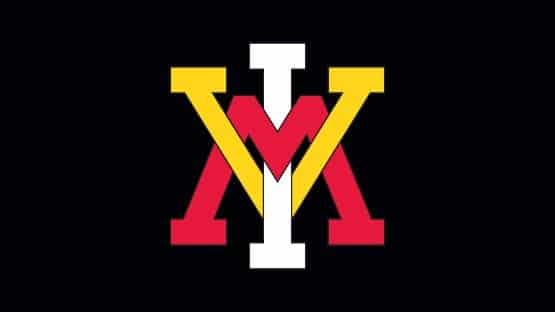 New VMI football coach Danny Rocco added 10 players to the program's 2023 prep recruiting class on National Signing Day on Wednesday.
The 10 players hail from five different states – Alabama, Georgia, Virginia, West Virginia, Tennessee – with six players coming from the Commonwealth.
"We are all very excited for the addition of our most recent signees," Rocco said. "This completes a very deep and talented signing class when added to the group we signed during the December signing period. I am very appreciative of the efforts of both our assistant coaches as well as our athletic administration. I want to thank both General Wins and athletic director Jim Miller for their support during this process."
This week's signees
Ray Adames – WR/DB – 6-1, 180 – Musselman – Bunker Hill, W.Va. 
Perhaps Adames' strongest quality is his versatility spending time at wide receiver, running back and quarterback. Last season, Adames became the school's first ever receiver to log over 1,000 yards in a single season. As a junior was named first team All-Conference when he logged 42 carries for 218 yards and six touchdowns. He also had 49 receptions for 543 yards and five touchdowns.
Dahmon Artis – DL/TE – 6-2, 200 – Henrico, Va.
Artis had a standout senior year, logging 74 tackles on the defensive side. His 74 tackles included 24 tackles for loss with 11 sacks and three forced fumbles.
Brendon Byrd – QB – 6-0, 200 – Gulf Shores – Gulf Shores, Ala.
Byrd was named Alabama 5A All-Region after passing for 1,933 yards, 16 passing TDs, 693 rushing yards and five rushing TDs. A dual threat QB with over 40 starts for his career, he totaled 5,407 passing yards and 55 touchdowns in addition to 2,144 rushing yards and 24 rushing TDs. Byrd played at Spanish Fort HS as a sophomore and junior where he was named AL 6A All-Region both years and led the team to a state championship runner-up finish as a sophomore.
Camden Clinton – LB/TE – 6-2, 205 – Liberty Christian – Evington, Va.
As a senior, Clinton logged 84 tackles, including 11 sacks, and had four PBUs and three forced fumbles as a linebacker. On the offensive side, he tallied four touchdown passes and 23 receptions as a tight end his senior year.
Louis English –  DB/WR – 6-2, 170 – William Fleming – Roanoke, Va.  
Totaling 42 receptions for 763 yards and seven touchdowns this past year, English earned First Team Blue Ridge District honors by averaging 16.3 yards per catch.
Stephan Fowlkes – DL – 6-4, 240 – Huguenot – Richmond, Va.  
Helping lead both Huguenot's football and basketball teams, Fowlkes was named to the Big River Rivalry All-Star game.
Malik Holmes – DL – 5-10, 175 – King & Queen Central – Newton, Va.  
The regional defensive player of the year in 2021, Holmes has been named first team all-state in both 2021 and 2022 and was the district's offensive player of the year this past season, helping the Central Royal Tigers to a 10-3 record. Totaling 69 passing touchdowns for his career, Holmes threw 24 this past season and totaled 1,112 yards, adding 512 yards on the ground. Defensively, Holmes was all over the field totaling 80 tackles, seven interceptions and 12 passes defended.
Destin Moore – WR – 6-0, 170 – Brookwood – Cairo, Ga.  
This past season, Moore earned GISA All-State honors and was named to the all-region team as well after 51 catches for 1,059 yards and nine touchdowns, tossing two touchdowns and adding one on the ground. A three-sport athlete, Moore is a two-time 100 and 200-meter state champion in track & field and competes for the Bookwood basketball team.
James Morris – DB – 6-1, 185 – Amherst County – Madison Heights, Va.  
A defensive back with a willingness to tackle, Morris checks in at 6-foot-1, 185 pounds. Morris, who also goes by JJ, is a member of the Amherst County basketball team. This past season, Morris racked up 61.0 tackles, two interceptions and had 12 passes deflected and two fumble recoveries.
Ben Shrewsbury – K/P – 6-2, 190 – Daniel Boone – Jonesboro, Tenn. 
Standing at 6-foot-2, the 190-pound Shrewsbury was both a kicker and punter for Daniel Boone High School. Shrewsbury, who holds a 4.2 GPA was First Team All-State and the 13th-ranked kicker in the Kohl's Kicking class.