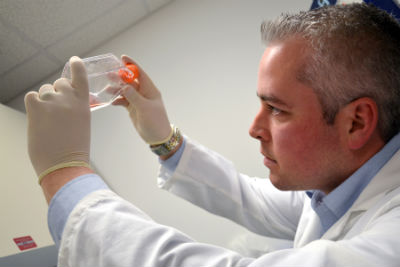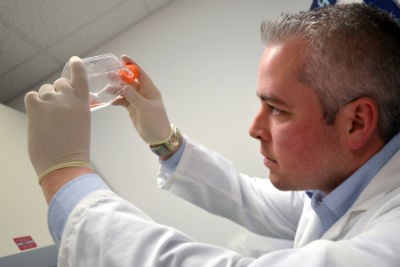 A researcher in the Virginia-Maryland College of Veterinary Medicine at Virginia Tech has received a two-year, $150,000 grant from the U.S. Department of Agriculture's National Institute of Food and Agriculture to develop a vaccine engineered to overcome weaknesses of current vaccines against an economically important swine disease.
Christopher Overend, postdoctoral associate in the college's Department of Biomedical Sciences and Pathobiology, hopes to develop a candidate vaccine against porcine reproductive and respiratory syndrome virus.
The virus causes severe pneumonia or respiratory problems in newborn piglets and young pigs, resulting in a 20 percent to 80 percent mortality rate, and reproductive failure in sows. This leads to annual losses of approximately $664 million in the U.S. alone.
"Although there are current vaccines licensed for use around the world, they are problematic for two reasons," Overend said. "First, the virus is genetically diverse and the vaccine only prevents infection from certain strains of the virus. Second, current vaccines are not very good at stimulating the protective immune response."
Overend and his mentor Dr. X.J. Meng, University Distinguished Professor of Molecular Virology, said that they are working to create a vaccine that is more visible to the immune system with technology Meng's lab has previously used. Overend compared the virus to a thief attempting to get past a security guard and the new vaccine to better training for the security guard.
"We can't just develop a vaccine using a single strain of the virus," said Overend, who added that the virus poses no threat to human health. "Instead, we have to use a gene present in multiple strains of the virus so that we can develop a vaccine that works against multiple strains."
Overend hopes to create a vaccine that is able to protect against a wide variety of virus strains and add a signal sequence to the host which will help to protect against future infection. The researchers plan to explore the possibility of using a virus vector, an unrelated virus that puts a gene in the host's immune system which will produce a protein to protect against the target virus. The virus vector is harmless to pigs and better mimics natural virus infection.
Originally called "blue-ear pig disease" by some, porcine reproductive and respiratory syndrome first appeared in North America and central Europe in 1987. By 1991, researchers discovered that a virus with multiple genetically divergent strains caused the disease. Southeast Asia's swine industry has been dealing with particularly virulent strains of the virus in recent years, leading to high mortality rates and significant economic losses.
Two other postdoctoral associates working for Meng — Scott Kenney and Shannon Matzinger — have also received federal grants to study economically important swine diseases in recent years. "This is a prestigious grant because it allows Chris to transition from a postdoctoral fellow into an independent scientist in the future," Meng said. "It is giving him a chance to learn how to write a successful grant, manage a grant, train graduate students, and comply with federal regulations."
Overend completed a bachelor's degree in biology from Eastern Connecticut State University and a doctorate in pathobiology and veterinary sciences from the University of Connecticut, where he also studied porcine reproductive and respiratory syndrome virus.
Meng's lab studies the molecular mechanisms of viral replication and pathogenesis and develops vaccines against emerging, reemerging, and zoonotic viral diseases. In 2006, the lab invented the first USDA fully licensed vaccine against porcine circovirus-associated disease in pigs, which is now commercially available worldwide.
The Virginia-Maryland College of Veterinary Medicine is a leading biomedical teaching and research center, enrolling more than 700 Doctor of Veterinary Medicine, master of public health, and biomedical and veterinary sciences graduate students. The college is a partnership between the land-grant universities of Virginia Tech and the University of Maryland. Its main campus in Blacksburg, Virginia, features the Veterinary Teaching Hospital and large animal field services which together treat more than 79,000 animals annually.
Other locations include the Marion duPont Scott Equine Medical Center in Leesburg, Virginia, and the Gudelsky Veterinary Center in College Park, Maryland.