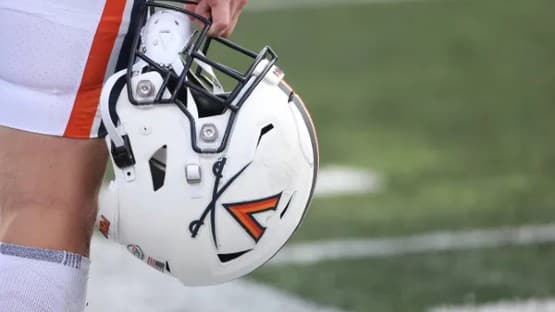 The transfer portal taketh – Virginia lost D2 commit Daijon Parker to Iowa earlier this week – but then it giveth something back.
The something back comes in the form of Houston transfer Ugonna Nnanna, a 6'4", 300-pound offensive tackle with three years of eligibility remaining.
The thing that Nnanna doesn't bring with him to Grounds is meaningful college experience. The three-star prep recruit from the Class of 2020 only played 28 snaps in two seasons at Houston, and didn't get on the field in 2022.
But he's at least, at the moment, a warm body, which Virginia lost with the decommit from Parker, who had been an early commit out of the portal, but then flipped to Iowa, in part, he said, because UVA still doesn't have an offensive line coach, having lost Garett Tujague to NC State last month.
Head coach Tony Elliott had said at his signing day presser on Dec. 21 that he wanted to have somebody in place to coach the O line after the holidays.
It's Jan. 12, and there's not even rumors floating around as to who he might be talking to.
This is not good for a position group that is, for a second straight winter, basically starting from scratch.
This year's group is losing four starters – Logan Taylor, a four-star recruit from the 2021 recruiting class, is headed to Boston College; John Paul Flores, a transfer from Dartmouth in 2022, is on his way to Louisville; and Jonathan Leech and Derek Devine just decided not to return for what could have been their final year of eligibility.
The guys on their way out accounted for 68.1 percent of the offensive line snaps in 2022.
The O line does return centers Ty Furnish (505 snaps in 2022) and Jestus Johnson (194 snaps), guard Noah Josey (277 snaps) and tackle McKale Boley (135 snaps).
The position group currently has 12 student-athletes on the roster. Elliott told reporters at the Dec. 21 presser that he would like to have 15 offensive linemen heading into training camp in the summer.
There's still work to do, obviously.