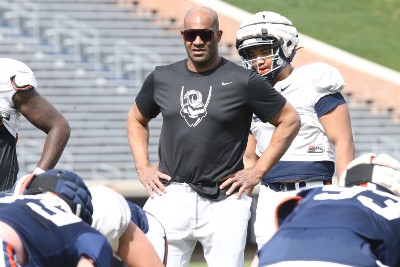 Here's a question related to your recent article about the UVA Football program hosting the high school coaching clinic.
Your article names the UVA football coaches who will give presentations at the clinic. This list of coaches doesn't include current UVA coaches Chris Slade and Clint Sintim. If they are examples of what UVA is aiming for [HS grads from the state, who selected UVA, graduated, played in the NFL and proudly returned to the University], why is UVA not publicly including them in this event?
My first thought is, "failure by the Tony Elliot group." Please help me understand another realistic explanation.  
Rick Moore
---
I have to admit, this didn't cross my mind when I wrote the article.
I'm slipping in my AARP years.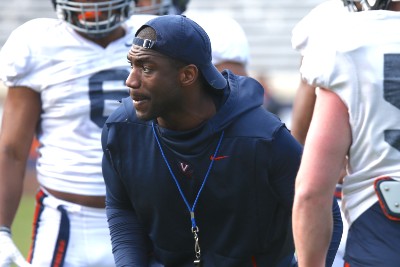 But yeah, great pickup here by Rick. I see the value of announcing that the clinic for Virginia high school coaches will give them access to offensive coordinator Des Kitchings, defensive coordinator John Rudzinski and special teams coordinator Keith Gaither.
For the life of me, I can't figure out how Kitchings and Gaither still have jobs after how their units flubbed so spectacularly last year, but that's another story for another day.
The high school coaches get access to the coordinators. Good stuff there.
But like Rick points out here, Slade and Sintim are Virginia guys through and through – played their high school ball in the state, matriculated at UVA, graduated, played in the NFL, came back to be a part of the rebuild under Elliott.
I'll riff off what Rick's first though was, "failure," and go with, "oversight."
It was an oversight by the Tony Elliott group.
An oversight that can be easily fixed.
Hint, hint.