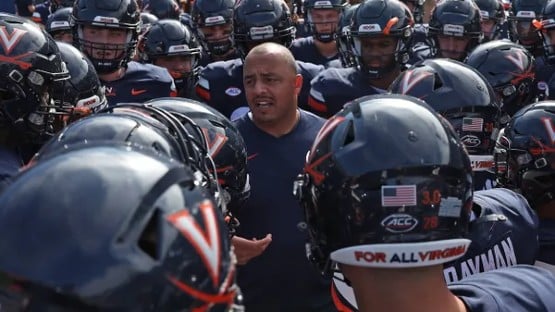 Virginia signed six players from the Commonwealth in its 2023 recruiting class, but got just one of the Top 10 players from the state, with Penn State snatching five of the Top 10.
And now that Penn State has Virginia's ace recruiter, Marques Hagans, who left his alma mater to take over as wide receivers coach and offensive recruiting coordinator on the staff of Nittany Lions' coach James Franklin, the uphill battle for UVA head coach Tony Elliott just ran into a headwind.
This is the context to the news this week that Elliott is rolling out a new effort to make inroads with Virginia high school coaches.
The program announced Thursday the inaugural Virginia Football Coaches Clinic, which will be hosted March 30-31 at the Cavaliers' George Welsh Indoor Practice Facility.
The event, outreach to high school and middle school coaching staffs, will give prep coaches the opportunity to attend a UVA spring football practice, and hear presentations from the UVA coaching staff, including Elliott and coordinators Des Kitchings, Keith Gaither and John Rudzinski, as well as strength and conditioning coach Adam Smotherman.
"As a young coach, I looked forward to opportunities like this to better my coaching skills, to network and to interact with my peers," Elliott said. "As someone who is involved on the presenter side, I love the opportunity to talk about football, share philosophies, to build existing relationships and create new ones. At the end of the day, we all love football and so this is a great opportunity for coaches at all levels to get together and improve our craft."
Clinic information, registration and hotel information is online at virginiasports.com/2023-coaches-clinic.
Elliott era off to rough start on the recruiting trail
Elliott's first season ended with a 3-7 record and a 1-6 finish in the ACC.
Virginia didn't play its final two scheduled games, with Coastal Carolina and Virginia Tech, following the shooting deaths of three football players, Devin Chandler, Lavel Davis Jr. and D'Sean Perry, on Nov. 13.
The recruiting year was already set pretty much in stone by that point, and though Virginia did lose one recruit, three-star wideout Amare Thomas, who ended up signing with UAB, "everybody else that was committed, you know, stuck with us, and so I was really, really proud, you know, of that," Elliott said earlier this month at his second signing-day presser.
The 2023 class, overall, ranked 63rd nationally, and 12th among the 14 schools in the ACC, moving up a spot from December because of the influx of players from the transfer portal, including former four-star prep defensive back Cam Kelly (North Carolina), former All-Big 12 cornerback Tayvonn Kyle (Iowa State), and Kobe Pace, the former lead tailback at Clemson.
That's not going to cut it, obviously, in the competitive ACC, which had three schools ranked in the Top 20 nationally (Miami, Clemson, Florida State), and three others (North Carolina, Louisville and Virginia Tech) ranked in the Top 40.
And then there's Penn State, which ranked 14th nationally in the Class of 2023, with the backbone of its class being the five four-star players it took from Virginia high schools, and is only going to be formidable in recruiting the Commonwealth with Hagans on the staff.
What Elliott is trying to do
Virginia is a talent-rich state, both in the past – think: Terry Kirby, Chris Slade, Jamie Sharper, James Farrior, Ronde and Tiki Barber, Thomas Jones, Heath Miller, Chris Long, Morgan Moses, Juan Thornhill – and today.
Elliott's predecessor, Bronco Mendenhall, didn't prioritize Virginia in his recruiting efforts.
To both of those points, there were 62 four- and five-star recruits from Virginia in the recruiting classes between 2017 and 2022.
UVA landed two of them.
Elliott, when he took the job in December 2021, made it a priority to reconnect the Virginia program with high school coaches in the state, and though his first two recruiting classes didn't land the top in-state guys, he thinks he's making progress.
"There's been good reception, you know, in particular, in the state of Virginia, because there's a bigger presence, you know, with UVA coming into schools, consistently, you know, so it's not just a one-hit wonder. You know, I challenge the coaches every year, I want every school visited, you know, if possible, so they're seeing more of us, you know, in the state," Elliott said.
"I think that there's people that that see how we're trying to build the program, and then there's relationships with people that know what the intentions are to build here, so it's been it's been positive," Elliott said. "Now, it's still challenging, right, it's still challenging when you get into some of those battles. But, you know, time is gonna come, you know, time is gonna come when my shiny toys are as shiny as everybody else's. There's still an element of that in recruiting, but from the coaches' standpoint on the road, it's been good reception, because they appreciate, especially here, in what we consider our radius and our footprint there, that they're seeing a lot of UVA, and I think there's an appreciation to that."