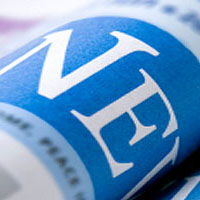 Fairfield Center in Harrisonburg has announced its sixth annual Valley Plane Pull at Shenandoah Valley Regional Airport. On Saturday, April 13, from 10am to 3pm, families from all over the Valley are invited to watch teams pull a four-ton plane across the tarmac.
Teams of six to eight people will get to show off their physical prowess and strength by pulling a genuine King Airtwin-turboprop aircraft 150 feet as fast as they can.
All money raised on the day will support Fairfield Center's work in the fields of conflict resolution and restorative justice.
At the end of the day, prizes will be awarded to the high-flying champions who pulled the plane the fastest. There will also be prizes for best costume and team spirit.
Tim Ruebke, the Fairfield Center's Executive Director, said:
"Everyone at Fairfield Center is looking forward to welcoming visitors from far and wide to watch our brave teams at the 2013 Plane Pull at Shenandoah Valley Regional Airport.
"With activities for young and old, it promises to be a fun-filled day for the whole family!"
The day will also feature live music, food and drink, and introductory flight lessons. Youngsters can get their face painted, play on a bouncy castle, build a model airplane, learn about fire safety with Augusta Fire & Rescue, or go for a free plane ride with the E.E.A. Young Eagles.
If you think you have what it takes to move a four-ton plane, you can enter your team today at valleyplanepull.com! It's$30 per team member to sign up, and each participant can only pull for one team. All pullers must be 18 years or older.
Notes to editors:
For further information, please contact Sylvia Whitney Beitzel at 540.746-5816, 540.434.0059 or[email protected], http://www.fairfieldcenter.org/plane-pull/
About the Fairfield Center:
The Fairfield Center offers a comprehensive array of conflict resolution, communications excellence training, business services, restorative justice and civic engagement initiatives.
Fairfield's primary service area is the central Shenandoah Valley in western Virginia, however Fairfield frequently provides services outside of this area, in surrounding states, and the east coast.
Any circumstance requiring dialogue or decision-making between two or more people is eligible for services.
Details for free plane rides at the 2013 Plane Pull:
Airplane rides for kids will run from 9am to 1pm. Registration forms must be signed by a parent or guardian. The age range for Young Eagles participants is 8-17 years old.
Details for scenic flights and introductory flight lessons at the 2013 Plane Pull:
Provided by Professional Air Solutions and Blue Ridge Aviation. Scenic flights are a $20 minimum donation per person. Introductory flight lessons are $60.00 minimum donation. Scenic flights and introductory flight lessons run from 9am to 3pm.
Activities for the whole family:
·         Face painting
·         Lowe's Build and Grow Wooden Airplane Workshop
·         Corn hole games
·         Pump It Up!
·         Bouncy castle and slide
Live music: The Walking Roots Band, Greg Ward, Chad Hanger, The Clymer Kurtz Band, The Travellin' Hillbillies, and Constant Q Productions.