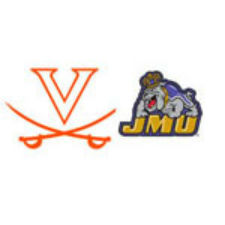 The No. 14 Virginia women's lacrosse team (4-5, 0-2 ACC) defeated James Madison (4-4, 0-0 CAA) 12-10 on Wednesday (March 19) at University Hall Turf Field in Charlottesville, Va.
The Cavaliers trailed 9-5 with 24:16 remaining in the game, but rallied to score seven-straight goals, downing the Dukes.
"Our girls really chipped away, really believed and got enough opportunities in the second half to make plays," said Virginia head coach Julie Myers. "That came from everybody really digging deep and believing. We made great plays on draws. We made great plays on loose balls. Our defenders came up with some checks and opportunities. [Goalkeeper] Liz [Colgan] did a nice job with some interceptions. The whole team gets credit for a big win that was really important for us. JMU is always a feisty, aggressive team. Any time you can beat them, you are feeling pretty good."
Junior Liza Blue (Butler, Md.) had three goals and an assist. Junior Casey Bocklet (South Salem, N.Y.) also had a hat trick.
Amy Roguski led the Dukes with a four-goal performance. Ali Curwin scored three goals and added an assist.
Virginia took an early 1-0 lead after junior Courtney Swan (Vero Beach, Fla.) won the opening draw and scored on a fast break 13 seconds into the game. James Madison scored back-to-back goals to take a 2-1 lead. Trailing 5-4, Bocklet scored her first goal of the game to tie it up with 3:40 remaining in the half. JMU scored three goals in the final2:05 of the period, including a goal with 11 seconds left, to take an 8-5 lead into the break.
The Dukes put Virginia down four, 9-5, when Roguski scored six minutes into the second half. Senior Maddy Keeshan (Greenwich, Ct.) started the Cavalier run 1:10 later, finding the net on a feed from junior Morgan Stephens (Olney, Md.). Back-to-back scores by Bocklet followed by back-to-back goals by Blue gave Virginia a 10-9 edge with15:29 remaining. A free position shot by Stephens followed by another goal from Keeshan capped the run, giving Virginia a 12-9 lead with 6:32 remaining. Roguski added a final goal for the Dukes with 1:15 remaining in the game, ending a 23-minute JMU scoring drought.
James Madison committed 10 turnovers in the second half, while Virginia turned the ball over only four times in the period. The Cavaliers took 16 shots in the half while JMU attempted six. Overall, UVa outshot JMU 31-20. James Madison also struggled from the eight-meter line, going 0-of-4 on free position shots.
Senior goalkeeper Liz Colgan (Cockeysville, Md.) logged seven saves. JMU's Schylar Healy had 14 saves.
Because of adverse field conditions at Klöckner Stadium, the game was played at Turf Field, the third time this season that the Cavaliers have played a home game at the venue. The Cavaliers are now 2-1 at Turf Field this year and 1-2 at Klöckner Stadium.
Next up, Virginia will play at No. 8 Duke (6-3, 1-1 ACC) on Saturday, March 22 at 3 p.m. The Cavaliers return to Klöckner Stadium next Wednesday, March 26 when they host Old Dominion at 7 p.m.