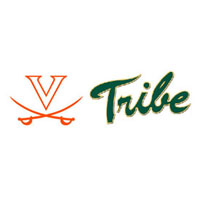 Tony Bennett knows he has a young team. Now we know that he has a talented young team.
"I kind of joked – I said, We're probably going to have to put some newspapers on the floor for our young pups out there. I think there were some nerves involved," said Bennett, whose Virginia basketball team overcame a sluggish first half to dominate in the second 20 minutes en route to a convincing 76-52 win over in-state rival William and Mary in the season opener for both teams Friday night at the John Paul Jones Arena.
Billy Baron electrified the home fans with 19-point effort in his debut that featured a lights-out 5-of-6 shooting performance from three-point range. Baron hit all three of his long-range attempts in the second half during a 13-point outburst that fueled a decisive 18-3 UVa. run that broke open what had been a tight game.
"After that first one went down, everything else took care of itself," said Baron, who admitted to having endured some pregame jitters. Senior Mike Scott scored 18 points and pulled down a game-high nine rebounds for Virginia, which led only 28-27 at the half against a William and Mary team that came into the opener off a 22-win season and the high expectations that come with success.
More UVa-William and Mary
Freshman KT Harrell scored 13 points for UVa. Sophomore point guard Jontel Evans had six points and seven assists. Virginia as a team had 17 assists versus just eight turnovers.
"They shared the ball. They're an unselfish group," Bennett said of his team's early grasp of his motion offense.
Virginia shot 50 percent from the field (28-of-56) and was 12-of-23 from three-point range.
William and Mary shot 37.5 percent from the field (18-of-48) and 26.9 percent from long range (7-of-26).
Quinn McDowell led three W&M players in double figures with 16 points.
Story by Chris Graham. Chris can be reached at [email protected].