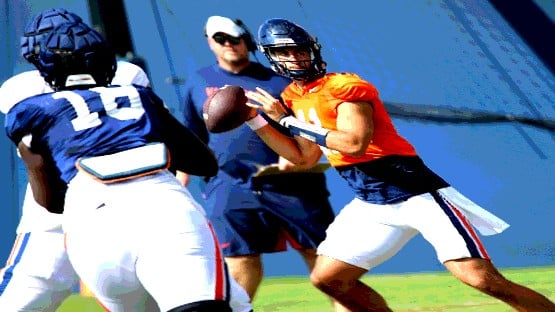 Tony Muskett let himself get pushed by true freshman Anthony Colandrea, but the FCS transfer stepped up in the final week of UVA training camp and earned the QB1 job.
"Tony Muskett will be our starting quarterback," coach Tony Elliott told reporters after practice on Monday.
It was the final practice of training camp, with the focus shifting now to game prep for #10 Tennessee, who the Cavaliers will face on Sept. 2 down in Nashville.
Muskett, a transfer from Monmouth, where he was the starter for three seasons, passing for 5,687 and 51 TDs in 23 career starts, was the presumptive starter at quarterback after Jay Woolfolk, the backup to Brennan Armstrong for the past two seasons, announced in July that he was stepping away from football to focus on his promising baseball career.
On the presumptive starter thing: Elliott even brought Muskett along with him to the ACC Football Kickoff in Charlotte last month to represent the team.
Coaches don't normally bring backups to the ACC Kickoff.
But, echoes of Bronco Mendenhall here, earned, not given, the second-year head coach had Muskett and Colandrea, a three-star recruit from Florida, compete for the starting job through training camp, and last week, Elliott told reporters, after a Monday practice, that Colandrea was "pushing" Muskett with his work in practice, and his showing in an Aug. 12 scrimmage.
As much as that made headlines and earned us in the sportswriter set some cheap clicks, it was clear that what Elliott was doing was using the media to light a bit of a fire under Muskett going into the final week of camp.
To hear Elliott tell it yesterday, consider that mission accomplished.
"Tony had a great week last week," Elliott said. "I challenged him to show me some of the true leadership things that I know that he has. He was a lot more vocal, took a lot more command of it, and then played well in the in the scrimmage."
Offensive coordinator Des Kitchings said what set Muskett apart was that he "continually was consistent every day, right."
"Taking care of the football, finding completions in the pass game, you know, get us into a right check if necessary, he checked the box in all those things," Kitchings said. "And then when you look at it when we actually played football in practice, you know, when he was out there, we moved the ball, he gave us a chance to score touchdowns."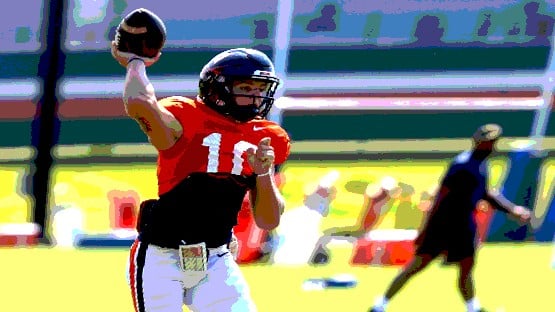 It's not the worst thing in the world that Colandrea was able to push Muskett in training camp. The way football seasons play out, guys get hurt, and the next guy on the depth chart needs to be ready to be able to step up.
Colandrea, who passed for 3,137 yards and 28 TDs as a senior at Lakewood High (St. Petersburg, Fla.) last year, enrolled at UVA in January so that he could take part in spring practice, and that was back when it looked like the battle for the QB1 spot would come down to Muskett and Woolfolk.
His solid showing in the spring game – 18-of-29 passing, 218 yards, one TD, one INT – showed that Colandrea should be ready if his number is called.
"He made a lot of growth from spring, in the spring through fall camp, and his maturation as a player, you know, his comfortability as a player, so we feel really good about both of those guys," Kitchings said.