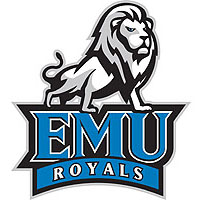 Visiting Ursinus looked every bit as good as their No. 13 national ranking Saturday afternoon, jumping ahead of EMU and holding off the women for a 5-1 decision. The Royals fall to 0-2 after the busy opening weekend at home.
The Bears scored in the fourth minute and bolted in front 3-0 by the 14th minute. Eastern Mennonite settled down and kept their visitors from hitting the cage again in the first half.
Ursinus scored twice more in the second to push the margin to 5-0. The Royals stuck with it, however, finding the cage in the 61st minute. Emily Augsburger (Lancaster, Pa./Lancaster Mennonite) smacked a shot which the UC goalie stopped, but it turned into a penalty stroke. Senior Camille Williams(Media, Pa./Delaware County Christian) stuck in the stroke to notch the goal.
Goalie Hannah Daley (Lothian, Md./Southern) made 13 saves in the loss, her second straight double digit save effort.
The Royals travel to McDaniel on Wednesday for their first road game of the year. Game time with the Green Terror is at 4:30pm.