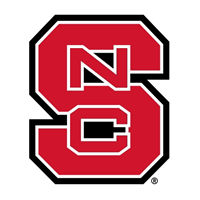 #7 seed NC State held off a late rally from #2 seed Syracuse to pull off the first big upset of the 2014 ACC Tournament, 66-63, Friday night in Greensboro, N.C.
State (21-12, 11-9 ACC) led 55-47 on a Ralston Turner three-pointer with 7:31 to go. But the Pack would then proceed to go scoreless from the field for the next five minutes as the Orange (27-5, 14-5 ACC) went on a 12-2 run to take the lead at 59-57 after CJ Fair made 1-of-2 free throws with 3:41 left.
A pair of free throws by Anthony Barber with 3:03 left tied the game at 59. After a Syracuse miss came the play of the game – a three from the right of the key from Turner that missed its mark so badly that it banked in , giving the Wolfpack a 62-59 lead with 2:31 to go.
Syracuse closed to within one at 64-63 with 27 seconds left on a jumper by Michael Ghinije. ACC Player of the Year TJ Warren made two free throws with 25 ticks left to extend the State lead back to three and set off a wild finishing sequence in which the Orange missed six shots in the final seconds.
The 'Cuse was undone by shooting woes all night, hitting just 18-of-55 (32.7 percent) from the field, staying in the game only by getting to the line 29 times, making 23 from the charity stripe.
NC State shot 46 percent from the field (23-of-50) and was 15-of-21 from the foul line. Warren led the Pack with 28 points and eight rebounds.
Tyler Ennis led Syracuse with 21 points, but was just 6-of-18 from the field. Jerami Grant had 19 points and 10 rebounds for the Orange, which has lost five of its last seven after starting the season 25-0.
NC State advances to the ACC Tournament semifinals on Saturday.