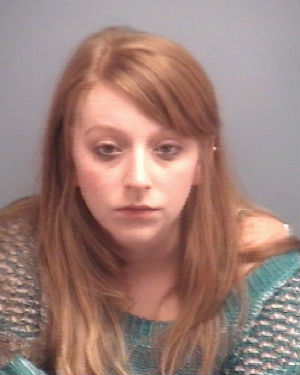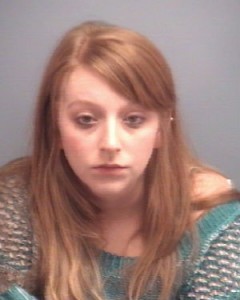 The Waynesboro police department arrested an Augusta County woman Saturday night on three charges after a lengthy interaction with police that started with her crashing vehicle into a tree and ended with her biting a police officer.
Skylor Dawn Burnette, 23, faces two misdemeanors, driving under the influence of alcohol and unlawful refusal of a breath yest, and one felony of assault and battery of a law enforcement officer.
On April 26 at approximately 10:40 p.m., officers responded to a single vehicle wreck on Hopeman Parkway near Parkway Village Apartments.  When they arrived, they found a 1991 Honda Civic crashed into a tree, a highly intoxicated and unconscious Burnette and a dog.  A witness at the scene told the officers that he found Burnette chasing the dog near the wrecked car.  He told her to sit in his vehicle as he caught the dog.
She then passed out.  It took officers several attempts to revive Burnette to have her perform field sobriety tests.  When they did get her awake and out of the vehicle, she fell down.  Due to her level of intoxication and inability to perform any tests, officers arrested her for DUI.
At the Police Department, Burnette got verbally abusive with the officer and magistrate and refused to take a Breathalyzer test.  As she was being escorted out of the building to be transported to Middle River Regional Jail, she became violent with the officer and bit him on his arm leaving a large contusion.  Two officers had to carry her to a police vehicle to be transported to jail.
Burnette has been released on a personal recognizance bond, the Honda Civic sustained about $2,500 in damage, and "Lulu Mae" the dog got home safely.