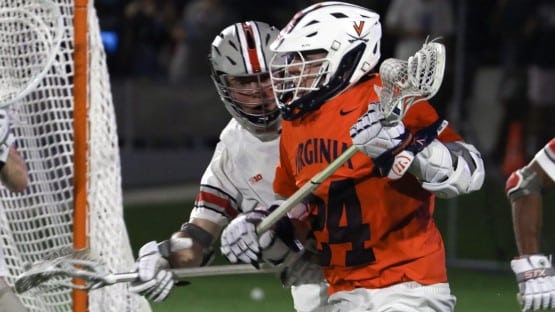 Top-ranked Virginia held #9 Ohio State to two second-half scores in a 17-6 rout of the Buckeyes at the Paradise Coast Sports Complex Saturday night.
Payton Cormier had a career-high seven goals for Virginia (3-0). The seven goals tied for second all-time by a Cavalier in UVA single-game history.
Cormier now has 122 career goals, which is tied for 13th on UVA's all-time goals list with Ian Laviano.
Ohio State's six goals are the fewest by a Virginia top-10 opponent since the Cavaliers took down then-No. 6 Georgetown in 2021 NCAA Tournament, when UVA defeated the Hoyas, 14-3.
Virginia led 7-4 at the half, then took control in the third quarter, outscoring the Buckeyes (3-1) 7-2, including scoring first three goals of the period to seize momentum.
Cormier scored four of his seven goals in the third quarter.
But this one was as much about defense as anything.
"Our team defense did not have the greatest outings the first two games, against Michigan and Harvard. We've been trying to get back to the basics: being stickier on-ball and communicating when we do need to slide," Virginia coach Lars Tiffany said. "The performance today was highlighted, really, by Cade Saustad. Cade's performance against one of the best attackmen in the nation, Jack Myers – for [Cade] to, not stop him period, but to neutralize [Myers], that was [critical]. But what I also saw was other defensemen doing really well with their 1-v-1 matchups, and we didn't see that with our first two games."