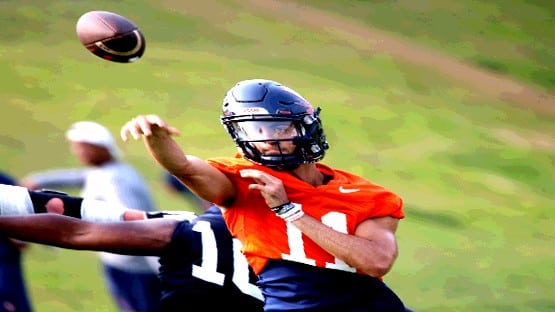 Tony Elliott has an idea for how the Tennessee D will approach his UVA offense on Saturday.
They're going to put the game on UVA QB Tony Muskett.
The basics: stack the box with six defenders, with Cover 1 man and man-free coverage behind that, and basically dare Muskett, a Monmouth transfer in his first start against a big boy football team, to beat them with intermediate and deep throws.
"Hey, I want to see you throw and catch in tight windows. You better not hold that ball, because if you hold this ball longer than 2.8 (seconds), you're going to be on the ground. That's what I anticipate will be their approach," said Elliott, who also expects to see a fair amount of what is called "zero coverage," with seven defenders in the box, no safety help, just one-on-one in the secondary, which Elliott characterized as "hey, let the best man win."
The scheme will put pressure on Muskett, who started 23 games in three seasons at Monmouth, a mid-tier FCS program, and will be making his first start at the FBS level on Saturday.
The speed of the game in FBS will be a factor there, as will Muskett having to play behind a makeshift offensive line.
There are three guys back from 2022 who had starts on the line – Noah Josey, Ty Furnish and McKale Boley. Josey played well in 2022 (his Pro Football Focus grade, 67.1, was the best on last season's unit), but Furnish (PFF grade: 45.6) and Boley (PFF: 47.1) struggled – Boley to the point that he got only 56 O line snaps in the last nine games last year.
The other two starters on the line on the depth chart for Saturday are transfers, Brian Stevens (Dayton) and Ugonna Nnanna (Houston).
Stevens had a solid 87.4 PFF grade in 718 O line snaps last year at Dayton, another mid-tier FCS school.
Nnanna, in three seasons at Houston, got a total of 28 snaps on the O line, none in the 2022 season.
For Virginia, a 28-point underdog, to have any chance on Saturday, it's going to require that line to gel, and quickly.
The game plan for Virginia will look to shorten the game – by being able to get yards on the ground, keeping the chains moving with short, high-percentage passes, at least getting a first down or two on every possession.
The ultimate goal is to keep the ball out of the hands of the explosive Tennessee offense, which led the nation in scoring a year ago, as much as possible, and giving the Vols the ball back with a lot of territory to have to traverse when they do get it.
It's been done before, just not with a group as inexperienced and lacking in the recruiting-star department as Elliott has to use.
The coach's message to his QB, Muskett, who walks around with a chip on his shoulder as a guy who thinks he was under-recruited both out of high school and off the transfer portal: you don't need to be Superman.
"Just be yourself and have fun and enjoy the moment," Elliott said. "And for all the guys, in particular, this is probably going to be an environment that they may not have played in before, and so they got to be ready. They can't become overwhelmed by the environment. You play for the roar of the crowd, there is no question about it, but after you hear that initial roar, then you got to lock in and just go do your job. A lot of times what happens is you get into a zone, and you block out what's going on around you and you're just focusing.
"Really, that's the message for him and everybody, just go be who I've seen you guys be for the last six, seven months."