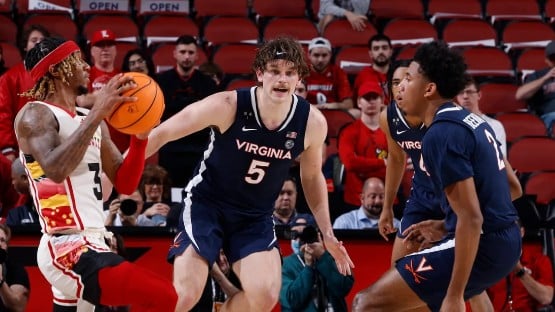 You don't have to be the best team in the country every night, the old saying goes, just the best team in the arena. Virginia, on Wednesday night, was the best team in the Yum! Center, but not by much.
The sixth-ranked Cavaliers escaped an unexpectedly tight one with three-win Louisville, winning by three, despite being outplayed by the Cardinals for long stretches.
Tony Bennett has been through this kind of thing before, from both sides – the favored team sneaking out the tough win, and the upstart looking for an upset that comes up just short.
"Those guys, they're scrapping. I mean, it's tough to be in the spot Louisville is in. Those young men are battling, and they want to get a victory," Bennett told reporters after the sphincter-tightening 61-58 win.
Louisville had been playing its best basketball of the season coming in, relative though that may be – putting in maybe their best 40-minute effort of the season in a 93-85 loss at #13 Miami over the weekend, and its last two games at home coming into Wednesday included the team's only ACC win to this point, a 68-58 victory over equally hopeless Georgia Tech on Feb. 1, and a near-miss 81-78 loss to FSU on Feb. 4.
Virginia may have let itself fall prey to the notion of the trap game. The Cavaliers, last time out, beat Duke in OT, that win coming on the heels of a double-digit win over #22 NC State.
UVA had won nine of its past 10 coming in, has its fate in its hands as far as the postseason is concerned, and may have been guilty of reading all the positive press clippings – not that anybody actually still cuts stories out of the paper these days.
(Not that people still read news in a newspaper, for that matter.)
"Those are excuses, poor excuses," Bennett said. "This is, you're in a race, and they knew that. And I don't know if they said that. You've got to come ready. I mean, it's a privilege to play. You've got to come ready no matter who, when you're in a race.
"If we ever think we're better than anything, that'll be the beginning of the end these guys," Bennett said, and as he talked, you could sense the theme for the next couple of days of practices coming into focus for him.
"Yeah, we got to come right, and we got to be ready," Bennett said. "I don't believe we have a squad that makes excuses. But Louisville, again, took Miami to the wire, and, you know, it's just, be better, be tough to score against, go get good shots. And sometimes the shots go in, sometimes they don't. But if at this stage, and you're in a race, and you say, well, I just didn't feel it, that's on us."
A little bit of x's and o's here – what Louisville did well on the defensive end was walling off the paint to make it harder for Virginia guards Reece Beekman and Kihei Clark to attack the paint, basically inviting them to kick the ball out to the perimeter for the three-point shooters.
It's an interesting strategy to try to make work, since UVA leads the ACC in three-point shooting this season, hitting at a 37.6 percent clip, but it worked to keep things close because the 'Hoos were just 6-of-18 on the night, with Ben Vander Plas, the stretch five who Louisville's strategy was leaving open so that the focus could be on Beekman, Clark and guards Armaan Franklin and Isaac McKneely, going just 2-of-8 from long-range.
A tweak in approach from Bennett at the half started getting Beekman and Clark more ability to penetrate, and Virginia shot 57.1 percent from the floor in the second half, and connected on 3-of-6 from behind the arc.
"I thought we got a little more aggressive off the dribble, which we needed to. We started attacking, and they did a good job of kind of zoning up, and, you know, trying to take away some of our cuts and movement, but I thought we got assertive with the dribble and got to the rim and got some offensive rebounds, took pretty good care of the basketball," Bennett said.
The Cavaliers needed every little thing they could get to snatch victory from the jaws of what would have been an embarrassing defeat, from the fans' perspective, anyway.
To Bennett, it's all about respecting the opponent, no matter what the records might say.
"I know you say that the difference in this league, you play well, and the team that plays well is probably going to win if you're not right," Bennett said. "I don't care if it's first, second, third, or teams that don't have a good record, it's not gonna make a difference. And so, I believe that, so again, I take my hat off to those guys for working hard, but we got to keep working, and I'm thankful for the win and to get out of here and get ready for the next one."