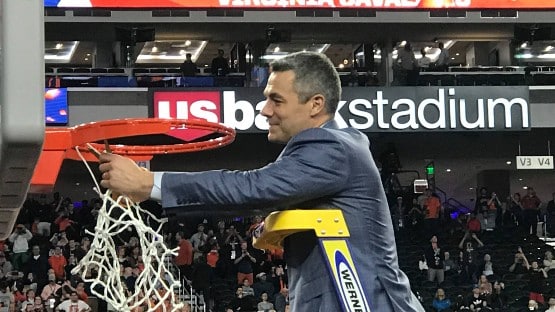 Tony Bennett likes to tell folks going into each season that he just wants his teams to reach their ceiling, whatever that ceiling may be for that year's particular collection of talent.
The ceiling for the collection of talent he has this season is as high as it's been since the 2019 group cut down nets in Minneapolis.
Hard as it is would have been to believe that night, Virginia has played just one NCAA Tournament game since – the pandemic robbed the 2020 team, and the rest of college basketball, and then one positive COVID test at the ACC Tournament undid the talented 2021 team, ahead of last season falling short of even earning a bid.
OK, ancient history there.
This year's team, which is nowhere close to having peaked yet, gives Bennett what he had back in 2019, in terms of matchup flexibility.
Some coaches might be unsettled by not yet having a set starting lineup heading into mid-February, but think back to 2019.
Three years ago this weekend, for example, when Virginia was set to face Duke in JPJ, as it is this weekend.
The starting lineup for that one, with LeBron James in the house on a Saturday night: Ty Jerome, Kyle Guy, De'Andre Hunter, Jack Salt and Mamadi Diakite.
Braxton Key (27 minutes), Kihei Clark (24 minutes) and Jay Huff (10 minutes) got time off the bench.
Fast forward a couple of months, and this was the starting lineup for the national championship game: Jerome, Guy, Hunter, Clark, Diakite.
Key got 28 minutes off the bench; Salt got four, Huff three.
Salt got 13 minutes, and Huff three, total, in the Final Four.
In the Elite Eight win over Purdue, though, Salt was on the floor for 34 minutes, and Key for two.
The versatility of that year's group gave Bennett the ability to adjust based on matchups.
He has that with this year's group.
It shouldn't surprise you to see Bennett go back to Kadin Shedrick, the 6'11" redshirt junior who started 14 of the first 15 games this season, as the starter on Saturday against Duke, whose front line goes 6'8", 7'0", 7'1" across.
But for Notre Dame, Boston College, Clemson, who go small around stretch fives, 6'8" stretch five Ben Vander Plas, who has started the past six, probably gets more minutes.
And unlike in past years, he has flexibility down the lineup. At the three spot, the entrenched starter has been Armaan Franklin, the team's leading scorer, at 12.2 points per game, but 6'4" freshman Isaac McKneely is starting to press Franklin for minutes at the three.
Over the past three games, Franklin has struggled to get a footing, averaging 6.7 points on (gulp!) 6-of-25 shooting, 4-of-14 from three, and his issues with shooting the ball seem to have permeated the rest of his game – he's contributed just four rebounds and four assists over that stretch.
McKneely, over his past three, is averaging 7.3 points on 8-of-15 shooting, 6-of-11 from three, and he's been a factor on the boards (12) and in general on the defensive end, notably contributing a key block on a dunk attempt by NC State guard Greg Gantt with 3:07 to go and the Pack looking to get the deficit back into single-digits.
Not saying here that McKneely steals the starting job, but Bennett has an option to go to if Franklin is struggling that he didn't have last year.
Same thing exists at the four spot, where Jayden Gardner has responded to a mid-season slump with a stretch of excellence – in his last four, he's averaging 18.3 points and 7.3 rebounds per game, and he's shooting 53.8 percent over that stretch.
But if Gardner is struggling, or gets into foul trouble, Bennett can go to uber-athletic 6'8" freshman Ryan Dunn, who has been quiet of late, with Gardner eating up the bulk of the minutes at the four spot, but Dunn had a nice four-game stretch between Jan. 14 and Jan. 28 in which he gave Bennett a solid 21.8 minutes per game, highlighted by a five-point, eight-rebound effort in the 76-67 win at Wake Forest on Jan. 21.
The flexibility at those three spots – basically, big guard, power forward and center – along with the oddity totally unique to Virginia this year, with two front-line point guards, in Reece Beekman and Kihei Clark, who are each getting 30+ minutes a night, gives Bennett plenty of moving parts.
I'm even going to go out on a limb and say that he has more parts to move with this 2023 group than he did with the 2019 team that cut down those nets.
Now, to be clear, I'm not saying this group is more talented than the title team – six of the eight guys in Bennett's rotation went on to play in the NBA.
It's just, the pieces with this year's group might be a little more maneuverable.
And Bennett has a few more weeks of regular-season and ACC Tournament ball to continue to experiment with lineups and rotations before the one-and-done NCAA Tournament gets under way.
Expect some fits and starts between now and then, as Bennett tries to get things just right ahead of March Madness.
Barring an injury to one of the key guys, this team has a chance to do what the 2019 team was able to do that April.