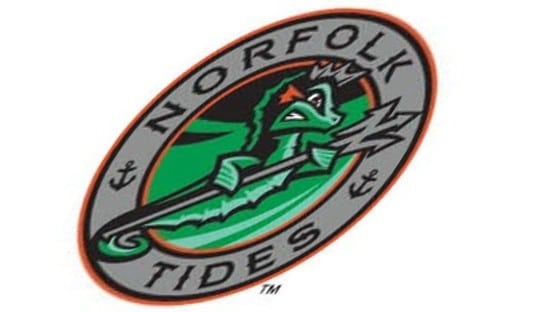 The Norfolk Tides (81-49) defeated the Worcester Red Sox (70-60), 6-4, in 10 innings on Saturday night at Polar Park.
The Tides, the Triple-A affiliate of the Baltimore Orioles, have taken the first five games of the series, and have won 12 of their previous 14 games.
The Tides started a home run parade that went from the second to the fourth inning. It started with Coby Mayo blasting his ninth Triple-A home run of the season in the second. Connor Norby hit his 18th home run of the season in the third. Then Lewin Díaz ripped his 15th home run of the season in the fourth to put the Tides up, 3-0. All three of the home runs led off their respective innings.
Worcester responded to the Tides home run parade with a dinger themselves. In the foruth, David Hamilton blasted a solo home run to put the Red Sox down 3-1. Norfolk eventually got that run back in the sixth when Shayne Fontana ripped an RBI double over Worcester's center fielder to regain a three-run lead.
The home run by Hamilton was the only run Tides starter Chayce McDermott gave up in what was a quality start. He lasted 7.0 innings, allowing the one run on two hits (including the home run) and a walk while striking out seven.
The Red Sox mounted a serious comeback in the ninth. Ronaldo Hernandez knocked an RBI double to score the first run, then Christian Koss followed on an RBI infield single to bring them within one run. With the bases loaded, Narciso Crook worked a bases-loaded walk to tie the game at 4-4 and force extras.
In the 10th inning, the Tides were able to score two runs. Díaz knocked in the inherited runner on an RBI double. He scored when Ramón Rodríguez ripped an RBI double to go up 6-4. Kyle Dowdy came in to close the game out on a 1-2-3 inning to earn his first save  of the season and clinched the win.
The first ever six-game sweep in Tides history is possible tomorrow, with first pitch is at 1:05 p.m. The Tides are scheduled to throw LHP Cade Povich (3-2, 2.79), while the Red Sox will have RHP Brian Van Belle (3-2, 7.19) on the hill.