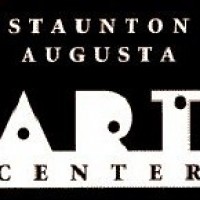 The Staunton Augusta Art Center announces an unprecedented offering of three concurrent art exhibits which open with a reception Friday evening, January 16, 5-7 p.m. and which will continue through Saturday, February 21.
Routine gallery hours are 10 a.m. to 5 p.m.. Mondays-Fridays and 10 a.m. to 4 p.m.. Saturdays.  There is no admission charge to visit the galleries or to attend the reception; everyone is welcome.
The exhibit titled Style and Identity: Horace Day's portraits of African-Americans, 1945-1985 will be featured in the first floor front gallery.   An exhibition of Horace Day's work in the Staunton Augusta Art Center galleries at the Smith Center is a long awaited event by Staunton's art community.  Horace Day and wife Elizabeth Nottingham Day (1907-1956) met while studying at the Art Students League of New York and both joined the Mary Baldwin College art faculty in 1941.  Horace Day served on the faculty until his retirement to Alexandria in 1967.  Works by Horace Day (1909-1984) are in the collections of a number of well-known museums including the Virginia Museum of Fine Arts.
Mr. Day called himself a regional painter in the style of Romantic Realism influenced by Claude Lorrain. Day was known for his landscapes, murals, and portraits.  In fact, his interest in African American portraiture was initiated in Staunton.  According to his son Tal Day, "Horace Day's portraits demonstrated a disregard for stereotypes of good looks, a respect for and interest in differences, and an interest as well in what made his subjects interesting and psychologically coherent.  For Horace Day, the dark tones in a person's skin and the cast of a face were simply features, among others, that made a person beautiful and interesting to paint.  Horace Day also admired the resilience of his Black subjects in dealing with hardship and their courage and moral strength in dealing with prejudice and injustice."
The Staunton Augusta Art Center exhibit of Horace Day's portraits is made possible by the generous loan of the collection of portraits from Horace Day's son, Tal Day and wife Barbara who own the collection.  Some of the portraits are identified but many are not which brings a mystery to the collection.  Staunton viewers are encouraged to help identify the portraits.
Featured in the remaining 1st floor art galleries is a new collection of work by popular, accomplished still life painter Cleveland Morris.  Morris titled his show Locally Sourced, inspired by and dedicated to the wineries, breweries, bakeries, and markets of Staunton, Augusta County, and surrounding area.  In every painting, there is at least one key element from a local source such as Curry's Kitch'n Cook'd Potato Chips strewn on a table top near a glass of Devil's Backbone ale.
Educated at Yale, Cleveland Morris enjoyed a 25 year career in theater as a play director and drama professor.  In his second career as an artist and visual arts teacher, Morris has earned numerous awards and his work is in a number of significant collections.  Morris commented, "Although I've been privileged to show my work in many venues throughout the Mid Atlantic Region, it's a special thrill for me to return to my adopted home town.   I am thrilled to have the opportunity to show my paintings in this gallery… the most beautiful exhibition space in the whole region."
Featured on the second floor is an especially unique exhibition titled  Arts Fusion and the Power of Creativity in Dementia Care, a Staunton Augusta Art Center collaboration with the Alzheimer's Association of Central and Western Virginia.  Works by dementia patients in various settings are accompanied by observations of teachers trained in Art Fusion.  According to guest curator Sharon Hughes who serves as the Creative Arts Director for the Alzheimer's Association, "Arts Fusion is the most extensive multi-disciplinary arts program for persons with dementia in Virginia.  It serves participants from diverse backgrounds and at all stages of dementia.  The program offers interactive creative arts programs that 'fuse' art genres such as music, poetry, dance, and visual art.  The program encourages creative expression, social engagement, and opportunities for success, shifting the focus from lost abilities to remaining strengths.