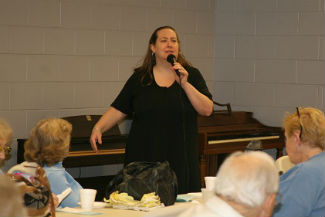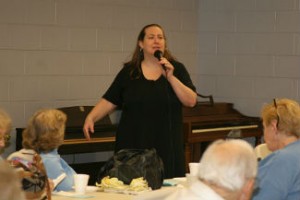 Cristin Sprenger of the Virginia Cooperative Extension Office in Harrisonburg, offered a 45-minute talk on "10 Things You Can do to Avoid Fraud," to 22 East Rockingham Senior Center members and one volunteer on May 13.
The tips that Mrs. Sprenger mentioned included:
keep in mind that wiring money is like sending cash: once it's gone, you can't get it back
don't send money to someone you don't know
don't respond to messages that ask for your personal or financial information, whether the message comes as an email, a phone call, a text message, or an ad; don't play a foreign lottery
don't agree to deposit a check from someone you don't know and then wire money back, no matter how convincing the story
read your bills and monthly statements regularly–on paper and online
in the wake of a natural disaster or another crisis, give to established charities rather than one that seems to have sprung up overnight; talk to your doctor before buying health products or signing up for medical treatments
remember there's no such thing as a sure thing; and know where an offer comes from and who you're dealing with
Mrs. Sprenger's visit generated a lot of exchange of between the members and was much appreciated. It served as a reminder that, "If it sounds too good to be true, then it probably is."
More online at www.EastRockinghamSeniorCenter.org.