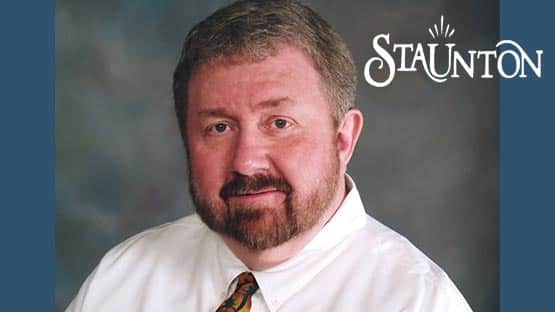 At a special called meeting of Staunton City Council, five candidates were interviewed for the position left vacant in early January by former Mayor Andrea Oakes.
Kenneth Venable, Terry Holmes, Graham Butler, Wilson Fauber and Adam Campbell were each given 20 minutes to interview in response to six questions from City Council Thursday evening.
In closed session, the Council chose Holmes to fill the vacancy until Election Day on Nov. 7, 2023. Holmes owns and operates Mill Street Grill in downtown Staunton.
"We were overwhelmed with the 20 different applications we received and we're most pleased with the enthusiasm," Mayor Steve Claffey said. He said Council encourages the other candidates to continue to pursue opportunities to serve the city.
Regarding public comment to the interviews, Claffey said Council wanted to keep comments positive.
"We appreciate all the applicants," he said.
Venable was most recently Staunton School Board's chair. He said he was interested in serving on City Council because he was blessed to return to Staunton, the city where he was born, and he would like to have an opportunity to give back and "do something positive for the city."
Council member Mark Robertson asked about Venable's special skill to serve on city council. Venable said he possesses corporate thinking, not just keeping today in mind but the future of the city's budget. He also would take sales and marketing into consideration.
Council member Michele Edwards asked how his work experience would help council. Venable said his experience is diverse which enables him to think outside the box and "help us move forward and that is so critical in today's time."
Council member Brad Arrowood asked about Venable's involvement in the community of Staunton. Venable is past chair of his church's budget committee. He is president of the Staunton branch of the NAACP, which he sees as a way to encourage all Americans. He serves on the Frontier Culture Museum's board and the American Shakespeare Center's board.
Council member Alice Woods asked about Venable's time commitment for council, and he agreed he is available.
"Whatever I can do for city council, I'm open to it 24/7," Venable said.
Vice Mayor Amy Darby asked about a goal the city could focus on.
Venable said the city needs to come together "as one inclusive city, whether it's the West End, whether it's downtown, whether it's Mary Baldwin University," or Uniontown or Staunton Crossing.
Holmes previously served more than eight years on City Council. He said he is interested in serving an interim position and he would be a good fit because he just ended a term on Council in 2022.
"And I enjoy doing it. I enjoy working with the city and working with all of you," Holmes said.
Holmes' skill that will help the city is his being a businessman for 32 years in the city. He experienced tough times, including the Great Recession and the COVID-19 pandemic, and would "bring a level head to City Council."
Holmes' involvement in the community includes cooking meals for the Valley Mission when the Mission experienced a fire and helping out in other ways in the community as a local business owner. Holmes said the city should be concerned about the juvenile court when it comes to goals.
Butler's interest in serving on Council is that at age 55 he is at a time in his life, after serving in the U.S. Army and working as an attorney, he wants to give back to the community.
"It's time to move into a new chapter," Butler said. Although the issue with building a new courthouse is settled, the city still needs to find solutions for economic growth in the West End and Staunton Crossing. "Staunton is an incredible city and it will grow. You may not like how it grows, but it will grow."
Butler's skills as a mediator would have served council well. He said he has brought groups of individuals who are split, together for a common goal. Butler said the city should consider lowering taxes for businesses and encouraging growth in the coming years.
Fauber, who was born in Staunton, said he wanted to serve because "I think I can make a difference." He is vice chair of the city's Economic Development Authority. He wants to see the city grow but also remain healthy. His knowledge of Staunton would be a special skill he would bring to council.
"I think the residents of Staunton are resilient. They're very hardworking people," Fauber said. He knows and understands businesses in the city.
Fauber kept the committee going to organize a Fourth of July celebration in Staunton every year after the Statler Brothers retired from organizing the event.
"I can enthusiastically say yes," Fauber said to dedicating time to Council.
As for a city goal, Fauber said Council should focus on growth, especially at Staunton Crossing. Growth will bring more jobs which will require more housing options.
"I don't want to just serve the rest of this year," Fauber said of his starting the process to run in November 2023.
Campbell said he wants to do his part to serve and lead the city into the future. A graduate of Virginia Tech, he moved to Northern Virginia with his wife until a job change brought him to Staunton.
"It's truly a remarkable city," he said.
His skills in problem solving and critical thinking would have served City Council well. In his role with VDOT, Campbell said he works with localities on finding available funding for projects. Campbell was an Eagle Scout and now serves as Cub Master of Pack 30 of the Boy Scouts of America.
Campbell said the city should work on public infrastructure, which would increase community pride.
"I think the city's done a great job in this realm," he said referencing studies on the West End and Uniontown. "But I think there are still lots of opportunities that we don't take advantage of." The city could benefit from grant funding.
Campbell expressed a commitment to run in November 2023 and 2024.
During public comment after the interviews, several community members expressed support for Campbell, including former Council member Brenda Mead. A few community members expressed support for Venable, who led the city's school board during the COVID-19 pandemic.
After public comment, the six members of council went into closed session to discuss the five candidates and chose Holmes.