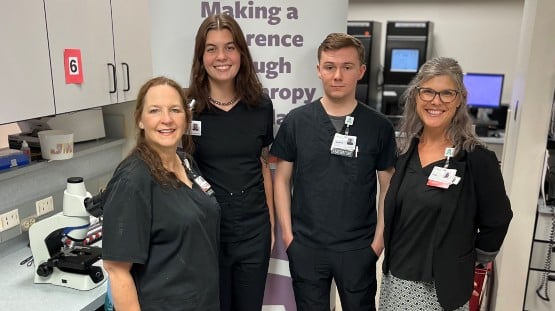 Two recipients of Augusta Health's Medical Laboratory Science Scholarships are Virginians.
After 1,500 hours of in-class and hands-on work, Lauren, who is from Hampton, and Andrew, who is from Staunton, will graduate at the end of May 2024 with a certificate in Medical Laboratory Science. Andrew has completed his degree from Virginia Tech.
Each were awarded a $10,000 scholarship from the Medical Laboratory Sciences Scholarship Fund (in memory of Kathy Miller), and in return will commit to two years of employment in the Augusta Health Laboratory. The laboratory is staffed 24/7 to ensure the best care possible for patients.
"Well-trained laboratory scientists are essential to the field of medicine. Without them, there can be no accurate disease diagnosis or management," Ann Ridder, Laboratory Clinical Education Program Director for Augusta Health's School of Medical Laboratory Science, said.
The scholarships allow students from all backgrounds and across the country to consider a profession in laboratory sciences at Augusta Health in Fishersville. Scholarship funds will cover the cost of tuition and contribute toward living expenses for the year of enrollment. Private donations make the scholarships possible.