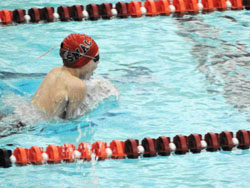 The Shenandoah Marlins Aquatic Club, which practices at the Waynesboro Y, competed in the Virginia Y Championships held in Lynchburg on Feb. 12.
The Virginia Y Champs is open to all YMCA teams in Virginia.  Y teams make up approximately 30 percent of the swimmers in the state.  There are numerous teams that operate out of a public pool and several that own and operate their own pool that do not practice at a Y.  
SMAC brought 65 swimmers from age 6 to 16 to the meet.  This is the largest group of swimmers SMAC has brought to a meet in many years and it didn't even include their swimmers in the National Group because they had just finished competing in the A/AA High School State Championship Swim Meet and deserved a day off.  SMAC finished the meet in 2nd place, but based on a per swimmer basis SMAC was the fastest team at the meet.  
The Virginia Y Champs was a one day meet and most of the swimmers swam just 2 individual races and on one or two relay teams.  SMAC had 44 of the 65 swimmers swim a best time in the meet even though they were only able to swim two individual races.
SMAC also had a number of swimmers place in the top three of their race.  They included:
Alexis Brooks (15 & over: 3rd 500 free)
Bobby Carey (14 & under: 2nd 100 fly),
Maya Chatterson (8 & under: 1st  50 fly & 1st 50 back)
Rece D'Allessandro (8 & under: 1st 50 back, 3rd 100IM)
Alice Elkins (8 & under: 3rd 50 fly & 3rd 50 back)
Lucas Farmer (8 & under: 2nd 25 back, 3rd 25 fly)
Braelin Fauber (9/10: 2nd 100 free, 2nd 50 fly)
Miles Fitzgerald (8 & under 3rd 50 back)
Hunter McMillion (13/14: 2nd 50 free, 2nd 200 back)
Justin Merritt (13/14: 2nd 100 free, 2nd 200 free)
Cody Niles (15 & over: 2nd 200 free)
Ella Pickering (9/10: 3rd 50 back)
Maggie Riggan (13/14: 3rd 200 back)
Brazil Rule (13/14: 1st  100 free, 2nd 200 fly)
Charlotte Rumsey (11/12: 1st 50 breast,  2nd 100 IM)
Savannah Scarbrough (13/14: 2nd 100 breast, 2nd 200 breast)
Madison Tegen (15 & over: 3rd 100 breast)
Logan Terrell (13/14: 3rd 500 free)
Kristen Wagner (9/10: 2nd 50 free, 3rd 100 IM)
Gannon Willcutts (13/14: 3rd 100 back, 3rd 200 IM)
Ben Young (8 & under: 3rd 25 breast, 2nd 50 fly).
Congratulations go out to all of the swimmers for a great performance, especially Maya Chatterson who broke the SMAC 8 & under team record in the 50 fly with a time of 36.99.  This lowered her record that she had set earlier in the season.
SMAC swimmers are now in the process of gearing up for the Virginia Swimming district, regional and state championship meets.  These meets will be a chance for the swimmers to show how much they have improved over the course of the year.  The meets will conclude the short course season (meets swam in 25 yard pools) for all of the swimmers except those that can qualify for the National level meets.
For more information regarding SMAC swimming contact Coach Norm Wright, Director of Competitive Swimming at the Waynesboro Y at 942-5107 or email him at [email protected].
For more information about SMAC, please visit their website: www.smacswimming.org.