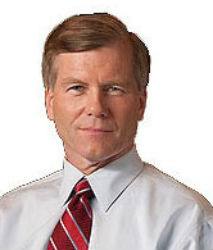 The U.S. Supreme Court smacked the hands of federal prosecutors in the corruption case brought against former Virginia Gov. Bob McDonnell.
So say two political scientists who feel the case represented a significant overreach and misread of federal bribery laws.
"Gov. McDonnell was convicted under a statute which required that individuals make an 'official act.' The Court narrowed the meaning of that law, finding that merely '[s]etting up a meeting, talking to another official, or organizing an event—without more—does not fit that definition of 'official act,'" said Jessica Levinson, a professor of Loyola (Calif.) Law School, a nationally recognized expert on the laws of the political process.
"Chief Justice Roberts, writing for the Court, held that a broader interpretation of the term 'official act' would create constitutional problems. It would also criminalize politics as usual," Levinson said.
Virginia Tech political-science professor Bob Denton used stronger language in his commentary on the case, calling the prosecution "a witch hunt, a partisan effort on the part of the Holder Department of Justice."
"This was more political than real. And it certainly destroyed him," said Denton, who agrees with others that the former governor showed some personal bad judgment, but contends that it was anything but criminal.
"The legacy and memory of his entire administration will be this incident, both the indictment and the aspects of the family tragedy," Denton said.
The case against McDonnell was being made as his term in the governor's office was winding down in 2013, but the Republican was still wildly popular with Virginia voters even so, with job approval ratings in the mid-50 percent range foretelling a post-gubernatorial career ahead for McDonnell before the trial and conviction.
It will be hard if not impossible for McDonnell to overcome the stain of the convictions even with the Supreme Court's ruling on Monday.
"Many will say, there it goes again – another politician let off the hook, not being treated as the average citizens. While it's good to show the court ruling for him, this entire incident will remain the most important and talked about part of his governorship," Denton said.