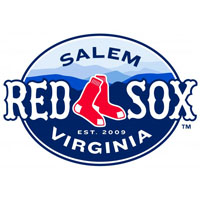 The Salem Red Sox launched two home runs and won the series finale with the Winston-Salem Dash, 8-3 on Sunday afternoon at BB&T Ballpark.
The Red Sox played small ball and touched up Spencer Adams for two runs in the second, when Danny Mars reached on a fielder's choice then went first-to-third on a Mike Meyers single. Meyers and Mars then executed a double steal of second and home. Meyers later came around to score on a Bryan Hudson single to make it 2-0.
Salem broke out the home run lumber in the third when Rafael Devers crushed a solo home run to centerfield to extend the lead to 3-0. Devers finished 2-for-4 with the homer and a walk, and made several dazzling defensive plays at third base.
Mike Meyers struck with a leadoff home run in the fourth inning, and then David Sopilka tripled and scored when Toby Thomas booted a Hudson grounder to put the Red Sox ahead 5-0.
Winston-Salem got a run in the fifth and two in the sixth against Beeks (4-1) to cut the deficit to 5-3, but the Sox answered right back in the top of the seventh.
Mauricio Dubon and Andrew Benintendi hit back-to-back doubles to open the frame against Adams (3-2), then after a walk to Jordan Betts, Andre Wheeler entered. Wheeler extinguished the flames in the seventh as the Sox led 6-3.
The lefty reliever was not so fortunate in the eighth, when Salem extended their lead with a Dubon two-run triple scoring Sopilka and Yoan Moncada as the Red Sox bloated their advantage to 8-3.
Beeks went 6.0 innings, allowing three runs (two earned) on five hits, walking two and striking out four. The game was Beeks' first quality start of the season, and the third in the last five games for the Red Sox pitching staff.
Jamie Callahan worked through a bases-loaded jam in the seventh; and a first-and-second, no-out jam in the eighth to throw 2.0 scoreless frames out of the bullpen.
Taylor Grover entered for the game's final frame, and sealed the win with a perfect ninth.
The Red Sox enjoy a day off Monday before beginning a three-game series with the Lynchburg Hillcats Tuesday night at LewisGale Field. First pitch is scheduled for 7:05 pm. Salem will send Dedgar Jimenez (1-1, 6.55) to the mound, and the Hillcats will counter with southpaw Sean Brady (2-1, 5.13). For tickets and more information call (540) 389-3333 or slide to www.salemsox.com/tickets.