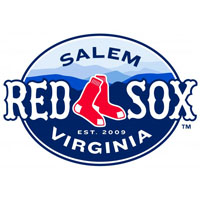 The Salem Red Sox scored double digit runs for only the second time in the second half and Pat Light put together his best start of the season in a 10-0 blowout win over the Lynchburg Hillcats at City Stadium Tuesday night. Light picked up his third win in his last five starts, surrendering just two hits in six scoreless innings, striking out five Cats. As for the offense, the Sox slugged out 10 runs and 13 hits, the club's best offensive game since July 21st. Seven of the Red Sox 10 runs Tuesday night came with two outs.
The Sox started the scoring in the second. Aneury Tavarez walked with one out off Lynchburg starter Cody Scarpetta, stole second base and scored on an RBI single by Matt Gedman. Scarpetta was the loser, allowing six hits and four runs in five innings.
This was only a 1-0 game with two outs in the fourth inning. But Salem got three two out hits in a row by Tavarez, Kevin Heller, and Gedman to take a 3-0 lead after four. Carlos Asuaje hit his first Carolina League home run in the fifth to give the Sox a 4-0 edge.
Then Salem broke the game open in the sixth off Hillcats reliever Benino Pruneda. Pruneda walked Carson Blair and Tavarez to start the frame, then retired the next two Sox hitters. But then the floodgates opened. Matty Johnson tripled in both runners to give the Sox a 6-0 lead. After a third walk in the inning to Carlos Asuaje, Mike Miller and Reed Gragnani launched back to back RBI singles to right field, scoring both Johnson and then Asuaje to put Salem up 8-0.
But the Sox weren't quite done. In the seventh, Carson Blair led off with a double off Navery Moore. Carson reached third on a groundout and scored on a sacrifice fly by Heller. With two outs, Gedman launched his third single of the game, and scored on a RBI single by Asuaje to get the Sox to the 10-0 final margin.
Kyle Kraus finished off the game for Salem, allowing just one hit in three innings. Lynchburg managed just three hits in the game, and did not get a baserunner to third. The win snapped the Sox five game losing streak. Game two of this series is tomorrow at 7:05. Joe Gunkel gets the ball for the Sox with Daniel Watts on the bump for the Hillcats.