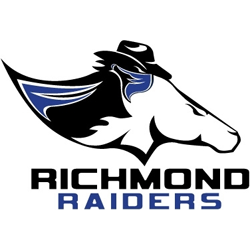 Five interceptions from the defense and 22 points from T.C. Stevens propelled the Richmond Raiders to a 46-29 win over the Harrisburg Stampede. The Raiders win the season series with Harrisburg, 2-1, and remain in second place and alive in playoff contention in the PIFL's National Conference.
The Raiders led by one at halftime but extended their lead to 16 with consecutive touchdowns by Scooby Bryant and Daron Clark. Phil Konopka was 12 of 17 in the second half as he managed the game, controlled the ball, and handed the reins to Stevens when necessary. The Raiders' kicker made a team record five field goals along with three unos and all four of his extra point attempts.
Torez Jones had interceptions on consecutive fourth quarter possessions as the Raiders' lead ballooned to 25. Malik Cromartie also had two picks, and Kevin Allen had his team leading sixth, which he returned for a touchdown to stake the Raiders to a 13-0 lead in the first quarter.
The Stampede closed the half on a 15-3 run thanks to two E.J. Nemeth touchdowns, but Nemeth was sacked four times and completed just 10 of 33 passes before being pulled in the fourth quarter.
Both offenses got off to slow starts. A 42 yard missed field goal return by Scooby Bryant gave the Raiders possession at the Stampede 10 yard line, but they settled for a field goal as they would on three red zone possessions. The offense didn't get into the end zone until the second half, but Stevens kept tacking on field goals, forcing the Stampede offense to respond. Their responses were few and far between, as the Raiders held them scoreless in two quarters.
Konopka spread the ball around, completing passes to six receivers. Early on, he threw the ball away several times when his primary receiver wasn't open, but as the game wore on he was able to check down and find the open man, and he finished with 178 yards, three touchdowns, and no interceptions. Bryant led all receivers with six receptions and 68 yards.
The Raiders remain in control of their own playoff destiny. They will return home on June 21 for the final home game of the season against the Nashville Venom. Tickets start as low as $7, and are available on the Raiders' website, www.RichmondRaidersProFootball.com, or by calling 1-855-GO-RAIDERS or 804-780-0430. Additionally, fans can contact the Richmond Coliseum
box office or visit ticketmaster.com.