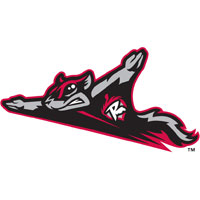 In a pitcher's duel between Bowie righty Zach Davies and Richmond lefty Jack Snodgrass, the Baysox (50-45) prevailed, 2-0, over the Flying Squirrels (55-40) at Prince George's Stadium on Saturday night.  The Baysox leveled the four-game series and pulled within five games of the Squirrels in the Western Division.
Davies (5-5) baffled the Squirrels for seven innings.  He scattered seven hits, walked one and struck out four.  He faced adversity just once – in the third inning – and won for the fifth time.
Snodgrass (8-3) matched Davies stride-for-stride into the seventh inning.  He had allowed just three singles to the Baysox to that point.  However, a one-out walk in the seventh issued to Christian Walker would come back to bite him.  After recording the second out, Snodgrass went to a 3-2 count on Michael Ohlman.  Ohlman then yanked the payoff pitch up the third-base line and into the left-field corner.  The only extra-base hit that Snodgrass conceded scored Walker from first for a 1-0 lead.
Snodgrass (8-3) took the hard-luck loss over seven innings.  He allowed just the lone run on four hits, walked two and struck out one.
Bowie capped the scoring for the evening with a run off lefty Steven Okert in the eighth inning.  Garabez Rosa led off the inning with a double into the right-field corner.  Johnny Ruettiger bunted Rosa to third and he scored on a sacrifice-fly from Ronald Bermudez.
Right-hander Steven Hensley worked a perfect eighth inning and righty Oliver Drake had no trouble in the ninth, earning his 22nd save of the season.
Game three of the four-game series is scheduled for 6:05 p.m. at Prince George's Stadium on Sunday night.  Richmond RHP Kyle Crick (5-4, 3.25) will make the start against Bowie LHP Jake Pettit (4-7, 6.52).  The Flying Squirrels Pregame Warmupbegins at 5:35 p.m. on Sports Radio 910 and SportsRadio910.com.