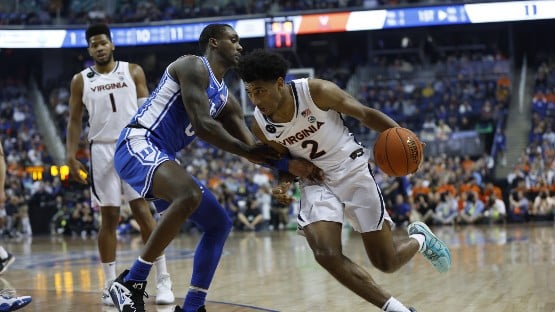 Reece Beekman has a decision to make about the NBA Draft, and you have to wonder how his thinking vis-à-vis former teammate Kadin Shedrick is factoring into his thinking.
247Sports basketball writer Isaac Trotter asked Beekman last week at the NBA Draft Combine about a number of things decision-related, including the awkward departure of Shedrick, who lost his starting job mid-season each of the past two years, and ended up hitting the transfer portal in March, landing at Texas.
For context on that awkward departure thing, remember that Shedrick had a lot to say about Virginia on his way out the door in an interview with Field of 68's Jeff Goodman:
"I was starting at the beginning of the season, and everything was great, and then going from that starting role to less than five minutes per game and some DNPs here and there, it wasn't easy, especially not being told why that was happening.

"I decided to stay the course and keep working even harder, getting in a little extra time in the gym. Obviously, the way I came back to end the season wasn't how I wanted it to happen, but I saw an opportunity to show people that I can still hoop and all that and win some games with my boys.

"I wanted to get myself into a new system where I could show everything that I thought I could do, that I was doing in high school, and at the end of the day, I just didn't think Virginia was the best place for me anymore, given what happened at the end of the season."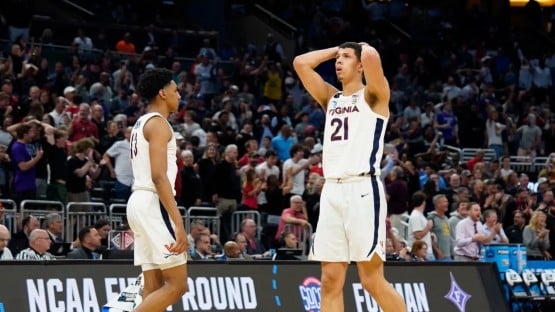 Beekman, speaking with Trotter last week, clearly came down on Team Shedrick's side of things.
"I feel like he spoke his mind. Anything he said, he was justified for. I will back him up 100 percent because I agree with what he said. I'm happy for him. I'm happy to see him in a new situation," Beekman said.
So, there's that.
On the flip, Trotter also asked Beekman about Bennett and Co.'s efforts to rebuild the roster after not only Shedrick, but also Francisco Caffaro and Isaac Traudt, hit the portal, along with the program losing Armaan Franklin to the NBA Draft, despite Franklin having as close to no chance of getting drafted, or even a look at a spot in the G League, along with Kihei Clark, Jayden Gardner and Ben Vander Plas each having exhausted their five years of eligibility.
Bennett landed Merrimack power forward Jordan Minor, a replacement for Gardner down low, along with Oklahoma swingman Jake Groves, a 6'9" shooter whose game resembles that of Vander Plas.
Andrew Rohde, a 6'6" combo guard from St. Mary's, could be a one-for-one with Franklin; Dante Harris, a 6'0" Georgetown transfer, projects to step into the shoes of Clark at the point.
Those four, plus four-star prep center Blake Buchanan, and three-star prep power forward Andrew Robinson, join rising sophomores Isaac McKneely, a 6'4" shooting guard, and Ryan Dunn, a 6'8" power forward, 6'5" junior guard Taine Murray, and 6'5" redshirt freshman guard Leon Bond, to form the nucleus for next fall.
The return of Beekman would be an addition akin to the return this time last year of Clark, who had been on the fence on whether to come back for a fifth season, then decided to, and went on to have a solid fifth-year campaign, averaging 10.7 points and 5.4 assists per game.
Beekman, as a borderline NBA prospect, would be expected to surpass those numbers, were he to return.
From what he had to say to Trotter, it appears that Beekman has given that some thought.
"It feels good to know I have a great team to go back to," Beekman said. "At the end of the season, we lost like seven or eight people. But we got freshmen coming in, we've added some new people and that's a good thing to see."