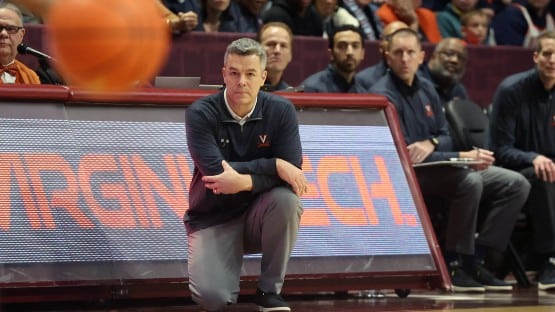 Is Virginia too slow for its own good?
I'd be interested in hearing your thoughts on the UVA offense in tourney time. I wonder if it is time to speed up the attack just a little, and/or use the break a little more often. A common feature of successful tournament teams seems to be a willingness to aggressively attack the basket early in the shot clock. Not suggesting we should fast break all the time, but maybe quick striking should become a part of the arsenal. When we've had fast break opportunities off steals, we've generally been inept at finishing, Attacking the other team before their defense is set once in a while takes some pressure off the halfcourt offense.
– Jim Gillespie
From a pure numbers standpoint, pace isn't a factor that in and of itself keeps Virginia games closer than they should be, despite what the TV pundits who aren't good at math say.
Virginia averaged 5.7 fewer possessions per game than the D1 average this season. That adds up to less than a point per game off the average Virginia margin of victory.
Not a lot there, just doing that math.
That said, there's a bigger issue with regard to tempo, raised here with the question from reader Jim Gillespie.
Two of the teams still standing in the Final Four, UConn and Miami, rank third and fifth, respectively, in KenPom's adjusted offensive efficiency national rankings.
Florida Atlantic is 24th, with San Diego State the outlier, ranking 75th.
All of the above, even San Diego State, play considerably faster than Virginia, whose tempo ranked 360th among the 363 teams in D1 this season.
Tony Bennett's basketball philosophy is built around controlling the tempo, with the aim being at preventing easy buckets for opponents.
Defensively, the Packline is based on doubling the ball-handler on pick-and-rolls and doubling when the ball gets in the post, trading contested looks on lower-percentage threes to take away better-percentage looks in the lane and at the rim.
The offense, as well, is built somewhat around the concept of limiting breakouts for opponents. When a shot goes into the air, the emphasis for the guys in orange and blue is on flying back toward the backcourt to prevent fast breaks, at the expense of sending extra guys to the offensive boards.
Floor balance akin to what you see from a hockey team is paramount, to the point that you rarely see a Virginia team give up double-digits in transition, but at the same time, yeah, you rarely see a Virginia team score a lot in transition, either.
Basically, to keep opponents from getting easy buckets, Virginia keeps itself from getting easy buckets.
According to data from SynergySports, just 8 percent of Virginia's offense came in transition, its 5.6 transition possessions per game ranking 355th among the 363 teams in D1 this season.
Virginia's 1.190 points per possession in its transition offense actually ranked 10th nationally, so, that's evidence of picking and choosing the spots for when to run well.
The halfcourt offense ranked 68th nationally, tied with Boise State and Purdue, scoring 0.940 points per possession.
For sake of comparison, 90.8 percent of Purdue's offensive possessions were halfcourt, just below Virginia's 92.0 percent.
Maybe it's just a coincidence that Purdue also lost its first-round game, like Virginia did, to an up-tempo massive underdog.
But then, only one team in the Top 50 in halfcourt possession percentage – Tennessee, at No. 19 – made it as far as the Sweet 16 this year.
Also worth noting: only one other Sweet 16 team – Princeton, at No. 84 – joined Tennessee in the Top 100 there.
Transition offense is what's being rewarded in the here and now. Of the teams still playing, Florida Atlantic (No. 40, 14.9 transition possessions/game), Miami (No. 50, 14.4 transition possessions/game), UConn (No. 125, 13.0 transition possessions/g) and even San Diego State (No. 210, 10.8 transition possessions/game) all use transition regularly to get easy buckets.
Virginia not only doesn't seek out transition opportunities, but the approach favored by Bennett actually ends up forcing more lower-quality end-of-shot-clock opportunities.
According to the data website Hoop-Math.com, 19.9 percent of Virginia's shot attempts this season came in the final five seconds of the shot clock, and Virginia had an effective field-goal percentage of 45.3 percent on those shots.
Hoop-Math doesn't offer a leaderboard for how all 363 teams fare in late-shot-clock situations, so the best I can do is look at a few schools for comparisons.
Duke: 15.7 percent of FGA, 52.8 percent EFG
Miami: 14.3 percent of FGA, 48.2 percent EFG
Pitt: 13.4 percent of FGA, 50.2 percent EFG
UNC: 13.0 percent of FGA, 44.0 percent EFG
NC State: 11.6 percent of FGA, 51.8 percent EFG
Even with Virginia's slower pace of play, the Cavaliers averaged 9.9 field goal attempts per game in the last five seconds of the shot clock.
Duke averaged 9.1; Miami: 8.3; UNC: 7.9; Pitt: 7.8; NC State: 7.5.
Less in terms of easy buckets in transition, more offense against set halfcourt defenses, more low-quality attempts at the end of shot clocks – it all adds up.
Or rather, doesn't add up, in terms of points for the good guys.
---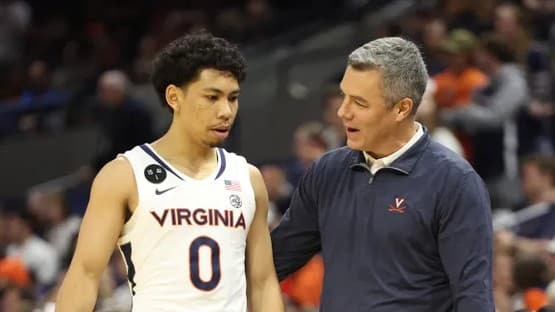 Harder to get kids who want to grind
What did all of the Sweet 16 teams have in common? They had multiple players who could hit the three ball, create their own shot, and consistently make free throws. UVA had none of this, and since TB puts defense as a precedence, his recruits reflect that. He either does not want to recruit those type of players, or they don't want to come here and play the grinding style. 
– T-Payne
The issue raised here by reader T-Payne goes hand-in-hand with what we addressed above with the slower tempo.
It's harder to get top recruits to be interested in playing the slower tempo, even as Bennett has been able to consistently get guys who have played in his system into the NBA.
This is only going to be more of a problem with the transfer portal being what it is.
You can bet that coaches use Virginia's tightly controlled pace of play when they're talking with recruits, both preps and guys in the transfer portal, and even (unofficially) kids who are at Virginia now.
Imagine, for example, Reece Beekman, with his elite ability to get into the lane and to the rim, in a free-flowing offense that gave him more opportunities in the open floor.
Armaan Franklin strikes me as another guy who could benefit from having the shackles taken off.
It'll be interesting to see how Georgetown transfer Dante Harris, a volume shooter in his first two seasons at the college level before transferring to UVA, will acclimate into Bennett's system.
Ditto for top recruit Elijah Gertrude, a 6'3" combo guard with an impressive all-around offensive game.
It may be that it's time for Bennett to open things up a bit on the offensive end, recognizing that in the transfer-portal era, it's going to be harder and harder each year to get guys to not only buy into the way he's always done things, but that it will also be harder just to get them to gel, given how complex his system is on both ends.
One approach could be offering a trade-off akin to what Coach K did at Duke when he decided to embrace one-and-dones – give me effort on defense, and I'll give you freedom on offense.
It's an idea, anyway.