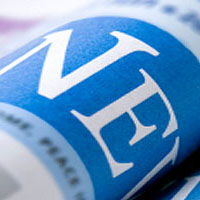 The number of farmers' markets listed in USDA directories has shown a steady increase in the US for the last twenty years, and according to Forbes Magazine local food has remained one of the hottest trends throughout the nation in 2014.
Recent growth among markets in the Shenandoah Valley has been fueled not only by increased interest in local food, but through innovative partnerships. One successful partnership has been Project GROWS, a nonprofit community farm with the mission of improving the overall health among children and youth in Staunton, Waynesboro, and Augusta County by connecting children and youth to the food they eat, and the North Augusta Farmers' Market (NAFM) in Verona, a weekday market that has been around for ten years.
Held each Wednesday April through October from noon-5pm at the Augusta County Government Center, the market-teaching farm partnership experienced one of the most profitable market seasons in NAFM history by emphasizing an expanding variety of producers and conducting targeted community outreach to make more local residents aware of the market. According to Project GROWS Executive Director Ryan Blosser, new vendor choices made a huge difference in the market's success. "We are thrilled with the mix and enthusiasm of vendors that participated in the North Augusta Farmers' Market during the 2014 season. By offering a more complete experience for customers that included high quality choices in an accessible setting, the partnership has allowed the market to grow in popularity and sales."
North Augusta Farmers' Market's last regular market day will be October 29, and a special North Augusta Winter Market and Craft Sale is scheduled for Wednesday, December 3rd, noon-6pm at the American Hotel Banquet Room, 125 S. Augusta St., Staunton, VA.
For more information about the North Augusta Farmers' Market and opportunities to participate in 2015, contact Ryan Blosser, [email protected] (540) 280-8056.