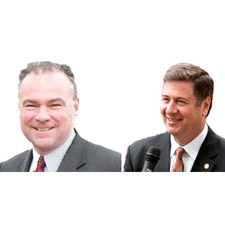 For the first time in the walkup to their anticipated 2012 U.S. Senate race, Democrat Tim Kaine has built a small lead over Republican George Allen.
A Public Policy Polling survey of Virginia voters released Thursday has Kaine with a 47 percent-to-42 percent lead over Allen in the matchup of former governors. The race had been a tossup in three previous PPP polls in 2011. The Kaine surge is due to a switch in preferences of independent voters, who at one point this year had given Allen a nine-point edge, but now favor Kaine by four points.
Kaine has a significant lead among the 34 percent of Virginia voters who say they do not consider themselves Southerners – with 61 percent of those voters saying they plan to vote for Kaine, and 29 percent saying they will vote for Allen. Allen leads among the 66 percent of voters who say they do consider themselves Southerners – by a 47 percent-to-41 percent margin.
Both candidates are close to break-even in terms of favorability ratings with voters. Kaine is viewed positively by 40 percent of those surveyed and negatively by 41 percent. Allen gets a positive rating from 38 percent of voters and a negative rating from 39 percent.
More details on the poll: www.publicpolicypolling.com/main/2011/12/kaine-leads-allen-by-5.html.