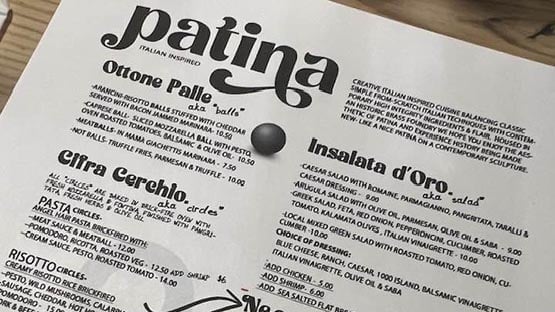 Seven years of business on the East End of Waynesboro made Basic City Beer Company president Bart Lanman do something he thought he'd never do again: open a full-service restaurant.
Lanman, who has been in the restaurant business his entire life, told those around him he would never do it again, opting for more simple choices at the brewery that didn't require waitstaff.
Never say never.
Enter Patina Italian Inspired, Waynesboro's latest culinary option with from-scratch techniques and high-integrity ingredients. The 60-person eatery with an upscale industrial feel features tables made from heart pine reclaimed wood from the ceiling next door and old sprinkler pipes making up the table legs. The chandelier over the bar nearby is made from an electrical conduit that was literally pulled from a trash pile and transformed into a contemporary 20-foot chandelier.
"For us to go from a pizza concept, which is casual, laid-back, pick up your pizza without service, to finally move into a food concept that we have full service is a big step for us after seven years," said Lanman in an interview with AFP last week.
The name of the restaurant, Patina, originated from Virginia Metalcrafters history – bringing a contemporary update, like a nice patina, to a building steeped in history. Virginia Metalcrafters worked closely with Colonial Williamsburg for decades to create high-quality metal goods including trivets, candlesticks, irons and trays in the building that Basic City Beer Co. and now Patina call home.
"We are situated here in a brass, bronze foundry, so we know that the shiny brass and bronze would become patina and that creates something more beautiful," Lanman said. "We are taking this idea of building on our reputation (from Basic City Beer Co.) and moving into something more beautiful – which is an historical, traditional approach to Italian cuisine."
Patina is the latest edition to the Basic City campus which houses Basic City Beer Co. and its taproom; The Showroom, offering specialty cocktails and cider; and The Foundry, a music and events venue with an arcade built into the corner. The concept allows you to set up a tab at one spot and you can move through the whole establishment on one bill.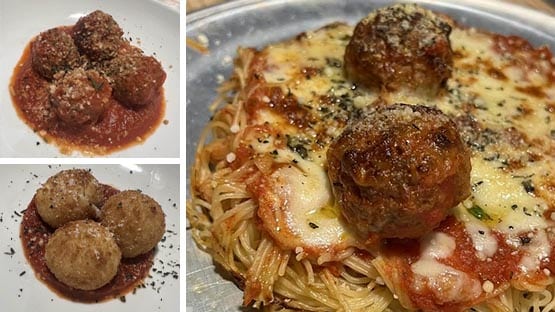 Patina is a full-service restaurant complete with appetizers, desserts, full menu options, a growing wine list, and yes, waitstaff. It is situated in the heart of the 35,000 square-foot campus between the Basic City taproom and the Foundry. Patina Italian Inspired is open Tuesday-Saturday.
The recipes for Patina, Lanman said, derive from authentic recipes that are traditional, created hundreds of years ago, and passed down from generation to generation – and then using a contemporary technique or approach to enhance it. Again, much like Virginia Metalcrafters, who had an historical approach to metal working, creating pieces that looked like they were centuries old but using equipment that was perhaps a bit more contemporary.
"That is our approach, and in the kitchen here, we take a classic dish that uses high integrity products and food items and approach it the way that they would have in the kitchen in Italy, with the grandmas and whatnot, and then use some equipment that make it so that it it's a little better than the way that the approach was back in the day or it comes out looking a little prettier," Lanman said.
For example, Lanman said, Patina offers paninis, which they call rectangles, or ferro rettangalo, on the menu.
For the reuben, Lanman said, they cook the meat for 10 hours in a water bath, and then they pull it and put it on a sandwich. They mix up a German coleslaw with a fresh, contemporary, funky Thousand Island dressing and then add a five-cheese blend on an Albemarle Baking Company baguette.
"This sandwich is not like your deli meat with processed preservatives," Lanman said.
What also sets them apart is a brick fire dome oven that heats to 760 degrees creating an experience that you can't get at home or at most restaurants.
Enter pasta and risotto circles, or cerchio. A dish where a springform pan is used in the brick-fire oven to caramelize the cheese and get a nice browning effect to the dish around the edges.
The menu is truly a language of love for Lanman, as he shares the intricate details of all the dishes on the menu – everything from appetizers, or balls, to freeform pasta like pappardelle with pork and beef ragu.
The menu was designed, Lanman said, to have his waitstaff and customers engage in the process, asking questions. He didn't want Patina to feel too upscale or too stuffy.
A lot of thought, Lanman said, was put into how to create high-integrity cuisine that is affordable for the community.
"Our menu prices are not that of a fine dining menu," he said. "You can get in and out of here at $35 a person, and that's including a drink. Or it could be $150 if you want to do all the courses and drink the whole time. Or it could be a tapas experience where you just eat appetizers and share a dish."
All the food for Basic City Beer Co. and Patina come from the same kitchen so keeping up with the pace on busier days has been a learning process for everyone involved. Lanman admits it can be challenging when the brewery side is dishing out 300 pizzas in a day – and they are serving full, plated meals at the same time on the restaurant side. They are also working to figure out a solution so they can have consistent hours at Patina even when they have major events booked at The Foundry.
It has been a lot to juggle related to noise and hours, but Lanman said, he's "been in the restaurant business all my life" and feels sure they will find a solution soon to the minor challenges that have popped up.
In fact, he said, they have a design concept in now waiting for city approval that could solve some of the issues to date – creating a separate dining room – that wouldn't be affected by events at The Foundry. He's also hoping to create a dinner and a show ticket for a meal before or during a show happening at the venue.
"We're working on it," Lanman said. "We know that we are what we call it, a little wonky right now. I've just asked people to hang with us because when we opened the tap room seven years ago, it was the same way. Some people don't remember that. But we found a solution, and we'll find a creative solution here too.
"There has been such a great response to Patina so far," Lanman said. "It feels really good to be where we are right now, where we have inspired a lot of entrepreneurs to join us on the East Side of town."
In recent months, Happ Coffee Roasters and Common Wealth Crush have opened their doors to the public in the once shuttered Metalcrafters building.
"It's an awesome thing to see like 20 people walking down the sidewalk to get to Basic City or vice versa," said Lanman, who calls himself the Mayor of Basic City. "You used to see a few people walking out here every once in a while, but to see the movement of people across the complex, that has been really awesome."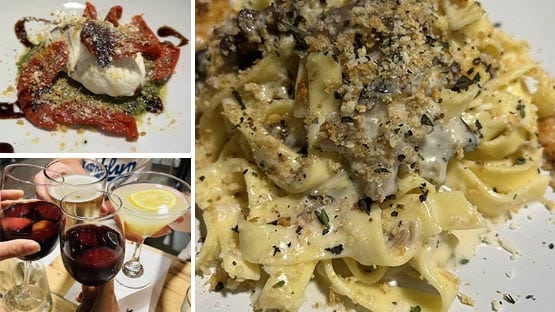 More information
Basic City Beer Co. is located at 1010 E. Main St. in Waynesboro. A second location is open in Richmond.
Hours for each venue at the Waynesboro address may be found here.
Basic City Beer Company and taproom
Patina Italian Inspired restaurant
Related stories
Waynesboro noise ordinance subjective; business owner asks city to define decibel levels
The Foundry owner challenges 'noise,' working with city leaders for more clarification
Basic City Beer creates destination with 800-person music venue, restaurant
Urban winery with Bohemian vibe opens in Metalcrafters building in Waynesboro
An invitation to explore, learn, connect: Happ Coffee Roasters schedules grand opening
From textiles to grapes: Virginia Metalcrafters building refurbished for wine production
Offshoot of Farmhaus Coffee launches Kickstarter campaign for a production roaster