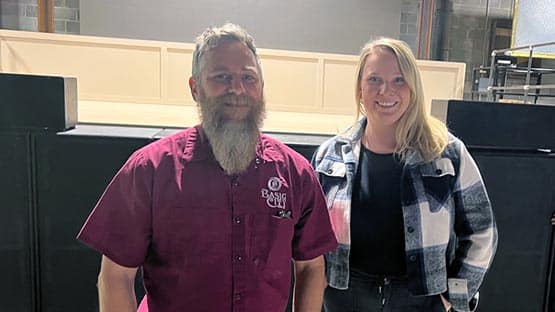 Synergistic might be the best word to describe how Basic City Beer Company in Waynesboro has expanded its footprint on the East End of the city with the addition of The Showroom, offering cocktails and cider, and now, with the introduction of The Foundry and Patina restaurant.
The Foundry, an 800-person music venue with 14,000 square feet, is set to open on Thursday, March 16. Think of The Jefferson in Charlottesville only with a different vibe, with reclaimed materials and an industrial feel.
Patina, a new restaurant also housed in the complex, is scheduled to open this spring and will offer brick-oven fire pizzas and affordable Italian-inspired cuisine five days a week, Tuesday-Saturday. The restaurant will have seating for 60 people to start but has room to expand.
The two new offshoots of Basic City Beer Co. will bring more jobs to Waynesboro with the need for restaurant staff, bartenders, production staff and security.
Located in the historic Virginia Metalcrafters building in Waynesboro, Basic City Beer Company, The Showroom, The Foundry and Patina are set to make this hotspot in the River City a true destination – where you can set up one tab and visit all their businesses – or stop over to Common Wealth Crush Co., a wine production facility, or Happ Coffee Roasters, an offshoot of Farmhaus Coffee Co. – two additional businesses scheduled to open soon in the historic building. There's also room for 6-8 more businesses, and it should branch out beyond beverages to retail establishments.
"The idea is to have a destination where you can spend, you know half a day or a full day hanging out in all the spots, enjoying the retail and checking out the businesses," said Basic City Beer Company President Bart Lanman, aka, he jokes, the Mayor of Basic City. "We have this spot, this destination spot, being right down from the Blue Ridge Parkway, Skyline Drive, and also right off the interstate."
Lanman began working on the concert venue concept about three years ago with some drawings and an idea to expand the business to provide more space during COVID … but it's taken a little longer than planned to bring the idea to fruition.
"The supply chain has been really challenging," Lanman said. "Things are not manufactured as quickly. They're not shipped as quickly. So almost every step along the way, we've had something that we were waiting on."
The vibe of The Foundry and all his businesses are set to mirror the building itself – with reclaimed materials and repurposing items others throw away as junk. From junkyard chandeliers to rusted sprinkler pipes, the idea is to reintroduce old things in a historical space.
"In my heart, and Basic City's general sentiment and aesthetic is to reclaim things and reintroduce it and to share what is here now and not make it something that is totally different but it's the same bones," Lanman said.
His general manager for The Foundry, Devon Ryan, is no stranger to the restaurant and live event business. She is from Charlottesville and went to James Madison University to study the music industry there. She was the assistant manager at The Jefferson in Charlottesville for five years – and has worked in the restaurant world.
"I went through COVID working as the general manager of a restaurant," she said. "I found my way back to music here.
"I think our goal is to have two live events a week. Enough to bring people in and stimulate the business," Ryan said. "We really want to keep the quality without having too many shows that won't bring people in."
As far as what kind of music to expect at The Foundry – a good range of regional talent from bluegrass to country to soul.
"We've been doing live music at Basic City, free shows for six years now," said Lanman. "And I've always wanted to make the step to do a little more than the local footprint."
Their first show is planned for March 16 with the Yonder Mountain String Band, and all VIP tickets are sold out.
The Foundry will have two VIP sections: the Sweet Spot and the Lounge High, both elevated platforms that hold 25-40 people each and have designated seating, and either access to a VIP quick cocktail line or direct access to the Showroom with specialty cocktails, beer, wine and cider.
General admission will be standing room only, though they have flexibility to add some seating depending on the performer and audience. Doors will open 60 minutes before show time.
The space will feature a 30-foot bar, and the stage will have an LED backdrop for a 16×10 high-def screen. They will have six cameras that will show activity on the stage and in the crowd. The stage is 24×24 with 8-foot wings on each side.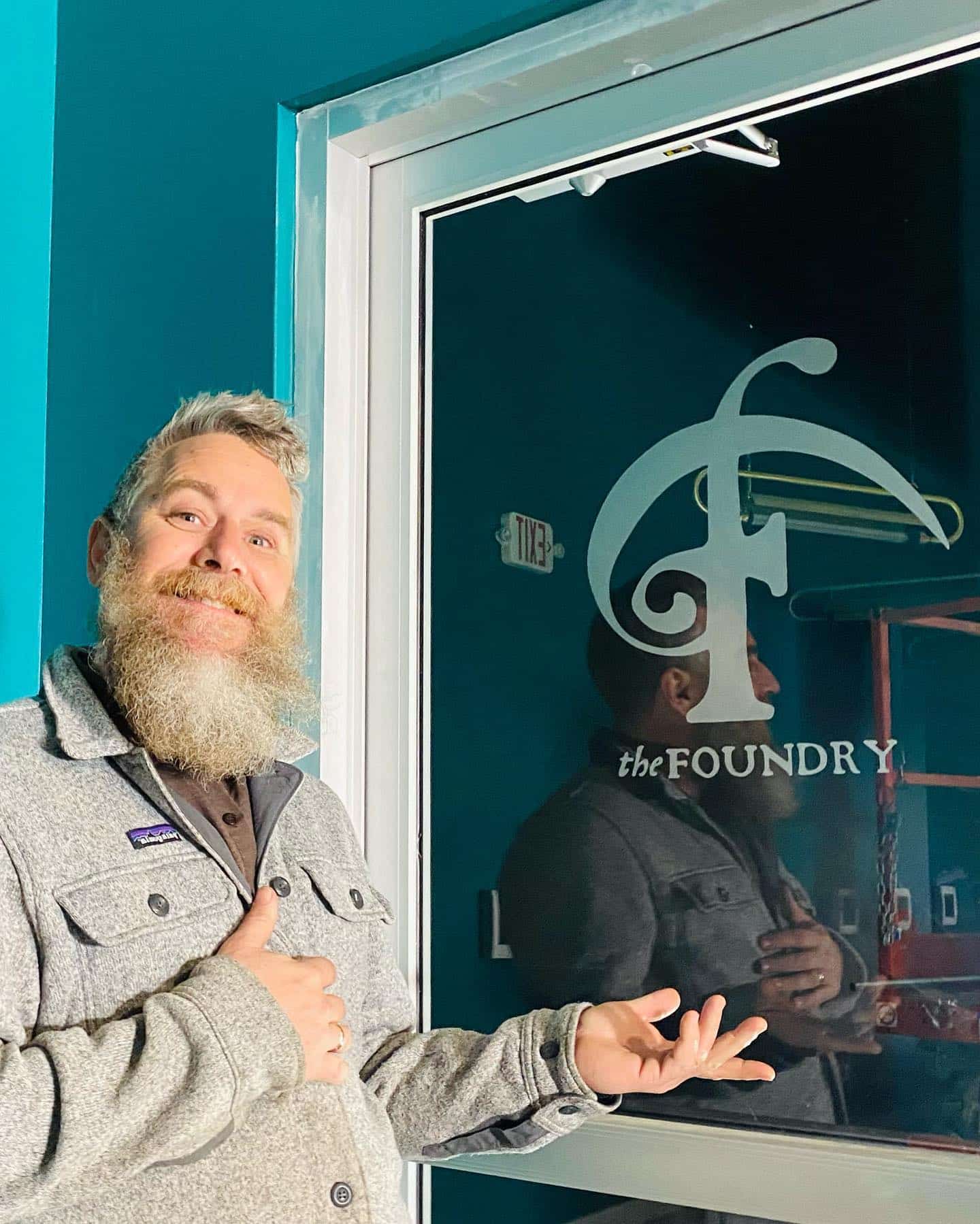 "It's nerve-wracking," Lanman said. "It's our first show. We've never done this before."
But with ticket sales starting to roll in, he said, "now we're like, oh good, it's happening.
"I tend to live my life with this balance of being like, this is awesome, this is stressful, this is awesome."
Additional shows on the schedule for The Foundry include:
Friday, April 14: Crawford & Power w/The Jared Stout Band
Saturday, May 20: Chairmen of the Board
Lanman said it feels great to see the original business plan come to life over time. Basic City Beer Company opened in 2016.
"We did our research, and we were seeing a lot of breweries going into districts that were not being focused on by the city or township, maybe a little more derelict or defunct, and putting in a brewery," he said. "And you know, people have said that build a brewery and people will come.
"It's been really cool to be on this end of town. People thought I was crazy because I'd show them the spot, and they'd be like, that's the East Side, you know."
He fell in love with the building, however, and the rest is history.
"There's so much potential along this corridor," he said. "It's very exciting."
As they get closer to opening day, Ryan's focus is bringing on more staff, and training them to make sure everything runs smoothly. She's also working to book additional bands – no easy task for a new venue as many bands tend to book 6-12 months in advance.
For regulars at Basic City Beer Company, don't worry. The venue will still offer free outdoor music from local artists, and people should expect the same level of service they are accustomed to, Lanman said. On days where nothing is scheduled at the Foundry, there will be additional space to spread out and check out the Redemption Arcade, in partnership with Basic City Games, replacing the old one which was shut down during the COVID era.
Lanman said that the business will likely grow and change over time, and he never considers any aspect of the businesses "finished." For example, when The Foundry opens later this month, he'll still be tweaking the layout, the interior and the special effects for future shows.
"It will create its own character over a period of time. Things will be added. Things will be taken away," he said. "We start off with good solid bones, and then it sort of grows into its own thing.
"When we added The Showroom," Lanman said, "that made it a different experience because there were people that liked beer, and then the people that sort of were dragged along, the people who didn't like beer. So we have craft cocktails in The Showroom. We added wine and cider.
"That allowed groups to come and have something for everyone to enjoy, and people started staying longer, and we're getting larger groups," he said.
The Foundry will offer a year-round air-conditioned space to sit down, hang out, watch sports, have a cocktail, and enjoy everything the destination has to offer.
Before you might spend a couple hours or a half day at the Basic City location, but the goal with the addition of The Foundry, Patina and other businesses in the Virginia Metalcrafters building, is that you could spend a whole day there.
"The idea is that people can move from one location to the next with a seamless experience," Ryan said. "On the same tab throughout."
Related stories
Offshoot of Farmhaus Coffee launches Kickstarter campaign for a production roaster
From textiles to grapes: Virginia Metalcrafters building refurbished for wine production
Waynesboro's Basic City Beer Co. win prestigious global award