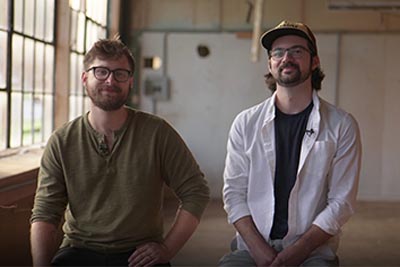 Happ Coffee Roasters launched its online Kickstarter campaign earlier this month to raise $25,000 for a production roaster to be housed at the former Virginia Metalcrafters building in Waynesboro.
Business owners Aaron Mallory and Clif Santiago want to elevate the connection between coffee and community by launching Happ Coffee Roasters as an offshoot of Farmhaus Coffee Co.
The inspiration for Happ Coffee Roasters developed from a passion for coffee and community shared by Mallory and Santiago.
The duo originally met in another coffee shop and have a combined 15+ years of experience in the coffee industry.
Mallory and his wife, Bethany, opened Farmhaus Coffee Co. in November 2016, where Santiago worked as a team member for several years.
After more than five years of serving the community and providing a place to gather and connect, Mallory approached the Virginia Metalcrafters building owners about leasing vacant space to establish a roasting operation.
"The Metalcrafters building has a fascinating history, and we're thrilled to breathe new life into this unique space," said Mallory. "There are a lot of cool things happening in Waynesboro, and we're glad to not only see the growth happening in our community but be an active part in it."
The business owners look forward to sharing their coffee and new space with everyone.
"During my time working with Farmhaus Coffee Co., I realized just how much support we have in Waynesboro," said Santiago. "This city has so much to offer, and it seemed like the next step was to do something we felt passionate about and share that with our community."
Donations to the Kickstarter will be accepted through July 31.
For information or to make a donation, visit www.kickstarter.com/projects/happcoffeeroasters/ or www.happcoffeeroasters.com.