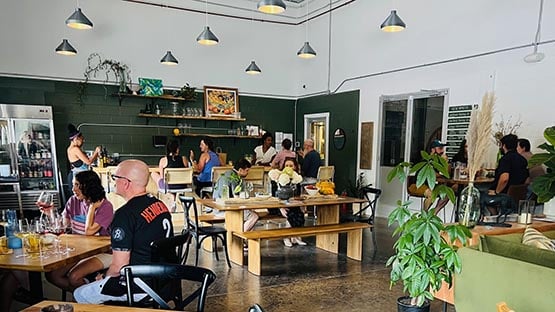 If you drive around to the back of Basic City Brewery, you'll find a new winery and tasting room, located in the historic Virginia Metalcrafters building on the East End in Waynesboro.
Common Wealth Crush Co. opened two months ago and welcomes residents and visitors to the River City to its tasting room with an inviting, open Bohemian vibe.
The "urban winery" by design isn't what some people imagine when they think about a visit to a more traditional farm winery. You won't find rolling hills or endless grape vines at Common Wealth Crush Co., although if you crane your neck the right way, you might catch a glimpse of Afton Mountain. What you will find behind the glass doors is a large volume of wines you may taste from seasoned and new winemakers – introducing tasters to makers, new and old, from Virginia's growing wine industry.
Beyond the tasting room, you'll find an operational wine-making area that serves as a think tank for small producers and an incubator for people looking to launch a new brand or small batch of experimental wine.
Lee Campbell spent decades as a sommelier in New York City before relocating to the Shenandoah Valley with a vested interest in Common Wealth Crush Co. serving as general manager, partner and tasting room manager. You'll often find her behind the bar or checking in on guests at tables and sharing details about the wine she is currently pouring.
"Somehow Virginia feels like a new frontier to me," Campbell said. "Even though people who have lived here for years and really been supporting the wineries locally know how amazing the quality is here and how lucky we are here."
Virginia ranks fifth in the United States for grape production with more than 300 wineries.
"It's surprising how little of that got out for a long time," she said. "Now people are starting to understand and hear about it (the Virginia wine industry) throughout the country, and it's really exciting to be a part of that movement."
Campbell said the urban winery model of Common Wealth Crush Co. has already taken root on the West Coast – with many wineries now sourcing their grapes from other places instead of having grape vines in their actual location.
"We are of the model where we are sourcing grapes primarily from the Valley because we think Valley fruit is really, really good."
Campbell's career has centered around innovation and exposing people to new types of wines. The idea of being a part of Common Wealth Crush Co. was a natural fit for the next step in her professional life.
"I think I was getting really comfortable in my career," said Campbell, who said she connected with her partners through a connection at Early Mountain Vineyards in Madison. "I needed some new challenges. I decided to leave New York City, kind of a big mid-life shift. It's kind of scary, and it's also probably the best thing I could have done for myself."
Ben Jordan, Tim Jordan and Pat Eagan were experimenting with winemaking themselves under several brand names including Lightwell Survey, Midland and Star Party, when the idea for Common Wealth Crush came to fruition. If they were looking for a place to make wines, they surmised, then obviously other growers would be looking for a place too.
"They were creating opportunity for themselves as much as they were creating opportunities for other people," said Campbell, of the small-batch winemaking operation.
"We wanted to give a leg up in the opportunity to small producers who don't necessarily have the resources to build out their own winery to have a place to come and make wine," Campbell said. "And to do it kind of freely, you know, without these long contracts or tons of monetary investment."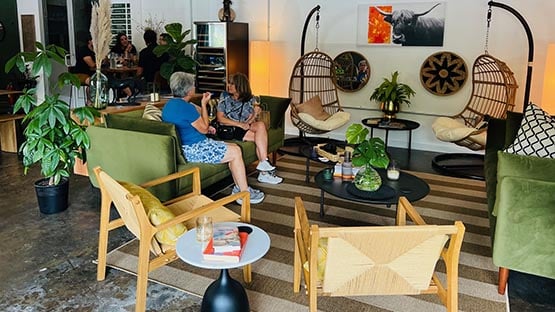 Campbell said small-batch producers using their facility don't necessarily have the same kind of risk as larger vineyards with their own grapevines and large estates to manage.
"When you're building out your brand, maybe we'll help you to be, you know, a little bit more fluid with the way that you're making wine," she said. "Maybe you can take more risks in the style. Maybe you don't have to make some heavy red Cabernet blend, because you know, it will sell.
"Maybe you make the wines that really speak to you."
The idea was to create a studio where everyone can follow their vision.
"I think the palette, the wine palette of Americans, is changing day by day," she said. "You know, the wines that we thought that we had to drink 20 years ago … they were, you know, Merlot or Cabernet blends from Napa Valley.
"We still love those wines, but there's so much more out there. And I think that we want to be about, helping to determine what next is coming."
They are also winemakers for hire – meaning other people hire Common Wealth Crush Co. to make wines for them. Some makers need a lot of advice while others are more experienced or may have simply run out of room in their own wineries.
"I think the exciting thing about Common Wealth is there's going to be so many different types of people – exchanging ideas, rubbing shoulders, exchanging knowledge, asking each other how they're approaching different things, and we really see this as an opportunity for people to learn from each other," she said.
Campbell, for one, is very excited about the wines they are creating.
"These are some grape varieties that people haven't necessarily heard of, because they're great varieties that we're experimenting with," she said. "Because we see it as being part of the next story of Virginia.
"And these include hybrid grape varieties. Again, things that people don't know as well, but we think are really appropriate for the Valley and appropriate for Virginia."
They are also working to support new wine makers each year – a "baby incubator" of sorts, she said. They've already selected their first two participants with Jahdé Marley and her brand, Love Echo, and Lance Lemon and Reggie Leonard, with their brand, Parallax Project.
"The idea is that each year we are going to be stewarding two brand new wine brands helping people who maybe come from the wine industry but haven't had a significant amount of experience in production or winemaking … drawing from people that have had historically less access to winemaking and wine production," Campbell said. "Sometimes people of color. Sometimes women, you know … Virginia is very well-positioned to be a dynamic, diverse wine industry. And we really want to be a part of diversifying it."
Even with her extensive background in the hospitality industry, Campbell admits she really didn't know what to expect when they officially opened the doors to the facility over the July Fourth weekend.
"I had no idea what to expect," she said. "And I tell you, I still don't know what to expect from week to week.
"I pride myself on being a person who's really interested in community and bringing people together and making everybody feel comfortable when they walk in the door," she said.
"I'm very happy with where things are. I'm very happy with where they're going. Seems like week over week, more and more people come through, and more people hear about us. You know, in some ways, because the Metalcrafters building is such a work in progress.
"It's really nice to be part of this community of like-minded crafters. Basic City obviously laid the foundation for us years ago. They opened Patina the same week that we opened the tasting room. And so, we are kind of evolving together," she said.
Campbell said Common Wealth Crush Co. doesn't currently have a food menu. They welcome people to bring pizzas in from Patina and Basic City.
Happ Coffee, open in the Metalcrafters building, is also proving to be synergistic. They close at 3 p.m. on weekdays, she said, and Common Wealth Crush Co. opens at 3.
"I really feel like we're part of a really burgeoning community in the Metalcrafters building," she said.
When planning a visit to Common Wealth Crush Co., Campbell said to "expect a casual, wine bar vibe … kind of a quirky, bohemian style in terms of design. And a little bit, you know, industrial or rustic as well, in terms of the building that we're in and sort of the room that we're in."
Campbell hopes more people will continue to visit the operation.
"I love just taking care of people, and I love making sure people are doing it at their own pace. If you come and you have a lot of questions about wine, that's great. If you just want to drink the wine, and you don't want to talk about it, that's also great.
"People keep telling us how glad they are that we're here, how they love having this alternative environment to drink wine in," she said. "And how jazzed they are just to see Waynesboro, you know, grow and evolve."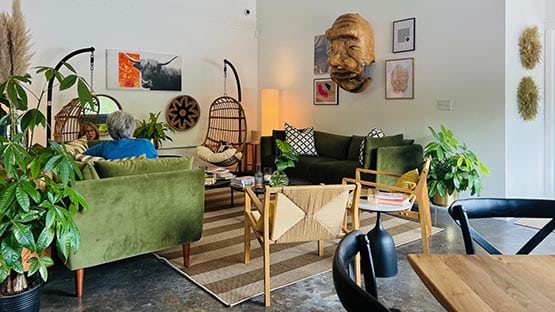 Visit Common Wealth Crush Co.
Monday, Tuesday, Wednesday: Closed
Thursday, Friday: 3-9 p.m.
Saturday: Noon – 9 p.m.
Sunday: Noon – 7 p.m.
Related stories
From textiles to grapes: Virginia Metalcrafters building refurbished for wine production
Basic City Beer creates destination with 800-person music venue, restaurant
An invitation to explore, learn, connect: Happ Coffee Roasters schedules grand opening
Shenandoah Valley Art Center director: Main Street location is the 'realization of a big vision'
The sound of silence: Oldest operating music store in SAW area closed