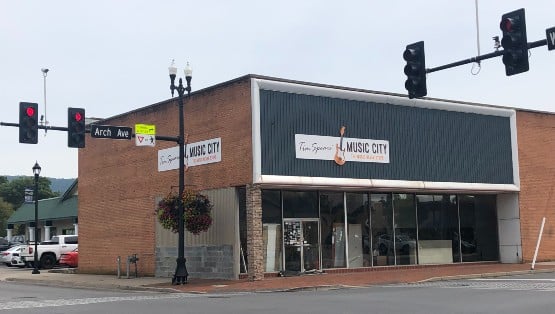 After 38 years of serving as the oldest operating music store in the Waynesboro, Staunton and Augusta County area, the music has stopped at Tim Spears' Music City.
Spears closed the store with the sign that read: "The Music Never Stops."
"The music store has been awfully good to me," he said.
Spears bought the store in Waynesboro from a friend while a road musician. He said that every town he traveled to, he ended up buying musical items and his friend sold them in the Waynesboro store. When Spears got off the road, his friend offered to sell him the store on Commerce Avenue.
Later the store was at Chips Mini-Mall Shopping Center on Payne Street in Waynesboro before settling at 216 West Main Street in 1993.
"I wanted to retire totally," Spears said of his decision to close the store after auctioning off his remaining inventory, including Taylor guitars, Gibson guitars, amps, accessories, cymbals and drums.
He was in a position to do whatever he wanted with the store as he still has income from 40 rental properties of single-family homes throughout the Valley and Virginia Beach.
"I didn't have to sell," Spears, a grandfather of two, said. "The store has been very fruitful to me."
However, online shopping became a challenge for the music store in downtown Waynesboro. And having a vehicle run into the front glass of the store in 2018 was not fun.
Spears said he would like to thank the community for the years of support.
The Wilson Memorial High School graduate grew up in Waynesboro.
"It was kind of emotional for me," Spears said of closing the store he spent more than half of his life owning and operating.
He will continue to manage his rental properties, but also has plans for 216 West Main Street.
With a Waynesboro branch of the Virginia Museum of Natural History coming to downtown across the street, Spears has already spoken with the city about turning the 5,000-square-foot store into a hotel.
He has a possible name for the hotel: The Upper Room.