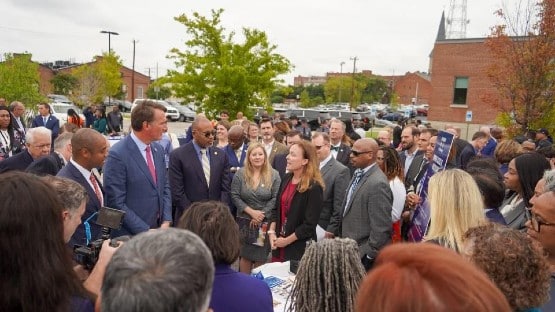 Petersburg residents and Gov. Glenn Youngkin celebrated the One-Year Partnership for Petersburg initiative yesterday.
Testimonials from Petersburg residents highlighted key accomplishments across the six pillars of the partnership, which was launched on August 22, 2022, with state, local, community and faith leaders who have come together with support from the Commonwealth to transform Petersburg into one of the best cities to live, work and raise a family.
"Over the year, the Commonwealth has seen a significant shift in the City of Petersburg, transforming communities and bettering the lives of many," said Youngkin said. "Working with state government, city government and the private sector, our teams are working hard to bring comprehensive solutions to the problems that have been putting Petersburg behind. I am proud to support the people of Petersburg and look forward to celebrating the next year of opportunity and success."
First Lady Suzanne S. Youngkin said the community holds a special place in the hearts of Virginians.
"We are grateful for the caring and strong leadership of our partners and the commitment demonstrated by the people of Petersburg to help their beautiful city flourish," she said.
Lt. Gov. Winsome Earle-Sears said genuine trust and cooperation among stakeholders make transformation possible.
"We must continue the good work started here in Petersburg for the sake of the children, so that they can have a hope and a future," Earle-Sears said.
Virginia Attorney General Jason Miyares said he is honored to serve the residents of Petersburg and make their community safer. His office is dedicated "to reducing violent crime in this city by utilizing innovative strategies to prevent and prosecute criminal activity. We are dedicated to tackling the serious problems preventing Petersburg from reaching its full potential, and I'm so proud of the progress made in just one year."
"Over the past year, Petersburg has seen remarkable progress under the Partnership for Petersburg initiative," Petersburg Mayor Sam Parham said. "Our gratitude extends to Gov. Youngkin and his team, the General Assembly, and the Commonwealth for their significant contributions. There are initiatives underway that are changing lives and other programs that will transform lives, though the impact may not be immediately visible. Addressing six decades of major challenges won't be a quick process. However, with the Partnership support from the Governor, Petersburg is charting its path toward a future filled with positive changes for upcoming generations. This journey and its associated challenges will necessitate sustained bipartisan support from our elected leaders. As Petersburg thrives, it provides a model for other localities in Virginia and across the nation to follow for their own transformative programs, using our city's blueprint as a guide."
Del. Kim Taylor said the partnership has been a catalyst for economic success.
"It fills me with immense pride to witness the positive impact it has had on our community, revitalizing businesses, creating jobs and empowering individuals to reach their full potential. Together, we have unlocked a brighter future for Petersburg, and the Partnership stands as a testament to what can be achieved through collaborative efforts and unwavering dedication," Taylor said.