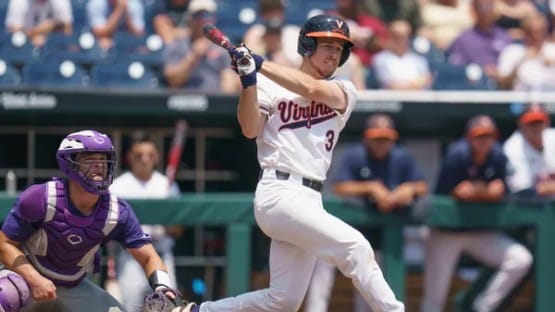 Brian O'Connor sees a lot of Buster Posey in Kyle Teel, the UVA catcher taken with the 14th pick in the first round of the 2023 MLB Draft by the Boston Red Sox.
Yeah, no pressure there.
"The reason that is, is Buster was a converted shortstop and was really athletic back there in college and maintained that in pro ball. That was Kyle," O'Connor told NESN.com. "Kyle caught, but he played a lot of shortstop (growing up). … His athleticism back there, his ability to pick balls, the plays he makes on block and recoveries and coming out in front of home plate and things like that, are as good as you'll see (with the) athleticism."
So, Buster Posey, huh. Former Rookie of the Year, MVP, three-time world champ, six-time All-Star, 44.6 career WAR, Hall of Fame candidate in 2026.
"Red Sox fans should be ecstatic," Keith Law wrote in The Athletic. "He has some areas to work on, needing especially to improve his production against left-handed pitching, but he's a great athlete for a catcher and it shows up in his running, his movement behind the plate, and even in the bat speed from his quick wrists. He might not have the upside of some of the bats who went before him, but I think he could still end up an All-Star at some point, and has a high floor because he can catch."
Looking at the Red Sox farm system, there are two catchers among the Top 30 prospects – Nathan Hickey, a 2021 fifth-round pick who is currently in Double-A, and Brooks Bannon, a 2022 ninth-round pick who just got the call-up to Low-A a week ago.
Teel would figure to start in Rookie ball, but shouldn't be there long. Even with Hickey, who played in college at Florida, in his way, I'd figure Teel, assuming he doesn't get hurt, and doesn't have any hiccups at or behind the plate, could end the 2023 season with a cup of coffee at Double-A.
Hickey is putting up good numbers right now – in 37 games at Portland, Boston's Double-A affiliate, he's slashing .273/.358/.515, with an .873 OPS, nine homers and 25 RBIs, though he's nowhere close to Teel's equal behind the plate.
Hickey has thrown out just eight of the 85 guys trying to steal on him at the High-A and Double-A levels this season, according to baseball-reference.com, after throwing out just 10 of the 65 guys who attempted steals on him in Low-A and High-A in 2022.
Teel, in 2023 at Virginia, gunned down 15 of 24 would-be base stealers.
Assuming, again, things with him would go as planned this season, I'd expect Teel to begin next season back at Double-A, and if he continues to progress, he should be in line for another call-up to Triple-A at some point next summer.
Catcher is a need position for the parent club. The current everyday guy is Connor Wong, a three-year MLB veteran who is slashing .235/.296/.407 with a .703 OPS, six homers and 20 RBIs and 20 punchouts on 66 stolen-base attempts in 2023.