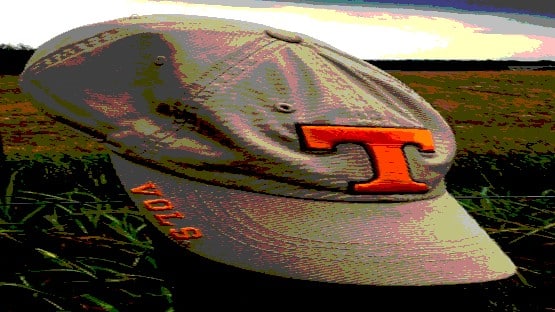 Tennessee QB Joe Milton, a sixth-year guy, is getting all kinds of buzz heading into the 2023 season, probably, honestly, beyond what a guy with nine career starts should be getting.
Milton did start the final two games of the 2022 season at UT, which opens its season on Saturday in Nashville against Virginia.
And he looked good in doing so in his final start, a 31-14 win over Clemson in the Orange Bowl, going 19-for-28 through the air for 251 yards and three TDs.
Milton is 6'5", 235 pounds, and he can move.
Basically, he's everything you think you want in a quarterback.
"I'm excited for him," UT coach Josh Heupel said. "He's a guy that did it the right way when it didn't go his way early on. He looked at himself and saw how he needed to continue to improve to get better, trust in his coaches and the program and believe in the guys around him inside of the locker room. He's put himself in a position to play at a really high level because of the work ethic that he's had inside of our program."
Milton, who played his first three seasons at Michigan, where he got five starts, was anointed by Heupel to be the starter going into the 2021 season, Heupel's first at Tennessee, before going down to injury in the second game, and eventually getting supplanted as the QB1 by Hendon Hooker, the Virginia Tech transfer.
(You remember Hooker. He was the Hokie QB in 2019 when Virginia finally beat Tech for the first time in forever.)
Hooker would go on to put up video-game numbers in his two seasons behind center at UT – 2,945 yards, 31 TDs and three INTs in 2021, 3,135 yards, 27 TDs and two INTs in 2022.
Hooker, a third-round draft pick in April, is gone, but the expectations in Knoxville for the Vols' offense with Milton behind center are pretty much where they've been.
What UT did on offense in 2022: 525.5 yards per game, 46.1 points per game.
Yeah.
Heupel, himself a Heisman Trophy runner-up as the QB at Oklahoma in 2000, as he led the Sooners to a national title, is a big fan of this year's starting QB.
"Since the back half of that first season, he's become really mature in who he is, what he's about and how he's going to work and impact his teammates," Heupel said. "The leadership role is not just coming from the Orange Bowl. He's been that guy for a long time inside of our program. He's someone that's continued to grow in his understanding of defensive alignments which allows us to communicate and adjust quickly with him. I think it's really important that he has complete command of what we are doing offensively."
Notebook
Heupel was asked at his Monday press conference to talk about the new starting QB at Virginia, Tony Muskett, a transfer from Monmouth, a mid-tier FCS school.
"Been a really good decision maker, threw for a bunch of yards, has good pocket awareness," said Heupel, who was then asked about the game plan for how to make things tough on Muskett.
"For us, we have to do a great job of handling the run game. We have to apply pressure. That can be from our pressure package, but it can also just be with our front four. We have to make him uncomfortable inside the pocket," Heupel said.
Heupel was asked later to offer his insight on Virginia's defense, which was solid last season, holding opponents to 357.6 yards per game.
"They do have some new transfers, in particular on the backend. They have experience in their front seven. They are doing a good job against the run," Heupel said. "We got to do a really good job of being dialed into our protections, our run schemes, make sure we're targeting the right people. The question was brought up earlier, do our assignments, handle our assignments at a really high level, be really good in our communication and go execute."