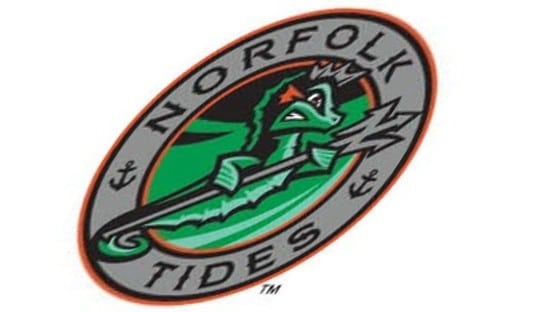 The Norfolk Tides (80-49) defeated the Worcester Red Sox (70-59), 4-3, on Friday night at Polar Park.
Things moved quickly for the Tides, the Triple-A affiliate of the Baltimore Orioles, as Connor Norby opened the game with a double. After Joey Ortiz found his way on with a base knock to left, Coby Mayo obliterated a 2-1 pitch for a three-run jack that gave Norfolk the early 3-0 lead.
The Red Sox, the Triple-A affiliate of, guess who, scratched the scoreboard for the first time on the night in the bottom of the third when Bobby Dalbec singled into left field to bring home a run, cutting the Norfolk advantage to two.
Bruce Zimmermann was strong on the hill as the starter this evening for the Tides, twirling five strong innings where he allowed only the one run on four hits, walking three while striking out seven Worcester batters to keep to Norfolk lead intact.
The Tides added a late run with Ramón Rodríguez driving one to deep right for a sac fly that gave Norfolk a 4-1 lead in the eighth.
In their final turn-at bat, Worcester plated a run with a Bradley Zimmer double and grabbed another with a run scoring on a double play that cut the deficit to one, but Garrett Stallings slammed the door and the Tides earned their fourth straight victory by a 4-3 score.
Norfolk is back in action tomorrow night against Worcester with first pitch scheduled for 4:05 p.m. Scheduled to take the hill for the Tides is RHP Chayce McDermott (3-2, 2.79) while RHP Kyle Barraclough (8-0, 2.43) is expected to make the start for the Red Sox.