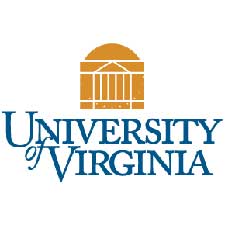 The University of Virginia's School of Engineering and Applied Science and Curry School of Education have joined forces to offer a five-year Bachelor of Science/Master of Teaching program, responding to a nationwide demand for teachers with rich backgrounds in the so-called STEM fields – science, technology, engineering and mathematics.
Engineering School students interested in the five-year, dual-degree program will apply to the Curry School of Education during their second year of study. They will complete coursework at both schools during their third, fourth and fifth years, graduating with both a bachelor's degree in engineering science and Master of Teaching degree. Graduates will receive a teaching license with an endorsement in physics, chemistry or mathematics.
Students will begin taking courses in the new program this fall.
The dual-degree program with the Engineering School launches on the 30th anniversary year of the original five-year program between the Curry School and the U.Va. College of Arts & Sciences, from which graduates emerge with bachelor's and master's degrees. When that program was approved in December 1985, it was the first of its kind in the nation. The five-year dual-degree model is now the industry standard and can be found at colleges and universities across the country.
In 2013, the National Research Council, the National Science Teachers Association, the American Association for the Advancement of Science and Achieve teamed to publish the "Next Generation Science Standards," new standards for science and engineering curriculum for students from kindergarten through 12th grade. The standards were quickly adopted by states nationwide, creating demand for teachers with extensive science backgrounds.
"With the Next Generation Science Standards, schools across the U.S. are specifically adopting curricula that include engineering for the first time," said Robert Pianta, dean of the Curry School. "This dual-degree program will pair the content expertise from an Engineering School degree with the high-level teacher training from the Curry School."
Faculty members from the Engineering and Curry schools have partnered for years on multiple projects. Many of those projects, combined, create the Curry School's Engineering Design Initiative, which works to support the successful implementation of engineering design curricula in K-12 classes both through its teacher preparation program as well as collaborations with in-service teachers..
"We are excited to partner with the Curry School on this new educational program. The world needs more engineers and scientists, and students should be introduced to the excitement and opportunity of engineering early on," said Craig Benson, dean of the Engineering School. "We need teachers with engineering skills to meet this need, and our joint program will fill that need."
The Curry-SEAS Engineering Education Initiative, a working group of faculty from both schools created to stimulate dialogue about engineering education, is among the projects housed in the Curry School. Faculty from both schools, in partnership with Charlottesville City Public Schools and Albemarle County Public Schools, previously established the first U.S. Laboratory School for Advanced Manufacturing Technologies.
As these projects were underway, James Groves, associate professor in the Engineering School; Glen Bull and Joe Garofalo, both professors at the Curry School; and Stephanie Moore, now an assistant professor at the Curry School and formerly director of instructional design at the Engineering School, began discussing engineering education and how combining the expertise and efforts of both schools could have a larger benefit to students and America's education system. Curry School assistant professor Jennifer Chiu, who is a member of the Engineering Design Initiative and specializes in STEM education, joined their efforts and ultimately the new dual degree was created.
"Our country is recognizing the important role that engineering and technology play in global development and prosperity today," Groves said. "We are also realizing that our K-12 education system needs to teach more about engineering, technology and design.
"This dual-degree program will embed teachers with a knowledge of engineering into K-12 settings, and, in the decades ahead, our graduates can contribute to important curriculum and instruction discussions focused upon the future needs of society."
According to Chiu, schools are in need of teachers who are specifically trained to effectively teach engineering concepts.
"Engineering is foreign to many pre-college teachers and little research exists on effective ways to integrate engineering into K-12 settings," she said. "This new dual-degree program is a great way to increase the effective teaching of an engineering curriculum."Currently, state licensure in engineering education is rare. But that will likely change.
"It will likely not be long before states, Virginia included, begin offering teacher licenses in engineering education, just as they do special education or mathematics education," said Linda Boone, manger of the teacher education program at the Curry School.
When that happens, U.Va. graduates will be ahead of the game.