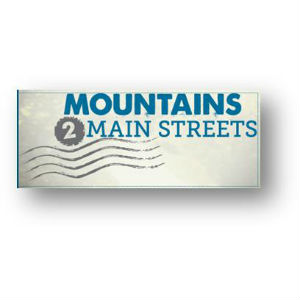 Building on the success of the Mountains 2 Main Streets' prior collaboration, tourism departments and Main Street organizations from Waynesboro, Harrisonburg and Luray as well as Massanutten Resort and Shenandoah National Park are proud to announce the next phase of the popular destination travel reward program.
The Mountains 2 Main Streets Instagram Photo Contest encompasses a rewards program, social media campaign and website with the intent to connect visitors with the charming communities and natural beauty of the Shenandoah Valley. "Our region's stellar avenues for outdoor recreation, unique shopping, outstanding dining and lodging, as well as our exceptional attractions have made us famous worldwide and we aim to provide the kind of experience that today's visitors seek. While engaging visitors to explore these adventures, we want to celebrate all of the fun our guests have in our corner of the Shenandoah Valley. By showcasing amazing photos and offering phenomenal award packages, we can accomplish both goals simultaneously," said Jenny Carter with Waynesboro City Tourism Department. "The joy of working in Tourism is seeing people having a great time relaxing, sharing lifelong memories. Now we can effectively promote those stories – and a picture really is worth a thousand words.
To be eligible, contestants must follow @Mountains2Main on Instagram and photograph items within one of the participating communities (Harrisonburg, Luray, Waynesboro, Massanutten Resort and Shenandoah National Park). Specific imagery including architectural details and area scenery as well as unique objects found at area retailers and remarkable meals are all recommended. Posting photos to Instagram with the hashtag #Mountains2Main along with the hashtag of the participating locality will constitute entrance to the contest. Photos must be received by June 30, 2015 to be eligible for the awards.
One prize winner from each participating entity will be selected by a panel of judges to win a prize package worth approximately $50. Additionally, one overall grand prize winner will be selected. This winner will receive a vacation package including overnight accommodations at Massanutten Resort, dinner for two in Harrisonburg, brunch for two in Waynesboro, and lunch for two in Luray plus a variety of other local treats. Winners will be notified in July 2015.
Full contest rules can be found at www.mountains2mainstreets.com.
The Mountains 2 Main Streets Program has been supported by joint efforts from Waynesboro and Harrisonburg Tourism, Luray-Page Chamber of Commerce, Harrisonburg Downtown Renaissance, Waynesboro and Luray Downtown Initiatives, and Massanutten Resort.