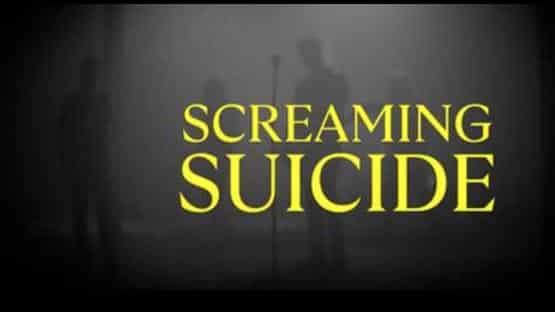 Chaos. Black and white. Light and darkness. Fire. Screaming. Pain. Clenched teeth. Strobe lights.
The video for "Screaming Suicide" paints a picture of absolute chaos and captures the feelings of someone who struggles with their mental health, with thoughts that they somehow are inadequate and a burden to everyone around them.
For people in suicidal crisis, they often just want the pain to stop, and the lyrics of "Screaming Suicide" clearly capture the feeling and emotion around someone with thoughts of suicide.
As a suicide loss survivor, when I first heard the lyrics and saw the video for "Screaming Suicide" by heavy metal band Metallica, I was taken aback by the almost demonic imagery portrayed … the pain and the torture and the anguish shown with up-close images of a face clearly in agony.
However, a deeper dive into the video and the lyrics, show an accurate representation of a mental health crisis – depicting someone fighting their own thoughts and their own demons within.
Then my voice appears
Teaching you of fears
Are you good enough?
When my identical twin sister died by suicide in 1992, no one talked openly about mental health or suicide. Christina battled depression and was faced with isolation, bullying and rejection in the months leading up to her death. More than 30 years later, musicians, athletes and actors seem to share their struggles publicly now in an effort to use their national platform to reduce the stigma around mental health.
Are you good enough?
You should just give up …
As someone who struggles with depression, I think this phrase – are you good enough? – is a common refrain in life. In the song, the band seems to confront this feeling head-on, facing the demons …
For most people who have thoughts of suicide, they just want the pain to stop.
The song reflects hope, a lifeline, a victory over the demons in one's head.
Throwing down a rope
A lifeline of hope
Never give you up
The song seems to tell listeners to not be afraid to say the word suicide out loud. In fact, it's OK to scream it. Because we all have thoughts of suicide at some point in our life. We all have thoughts that the world might be better without us in it. And we shouldn't hide that fact that we have those thoughts.
"Screaming Suicide" is the second single released from Metallica's 72 Seasons album – set for a full release in April. The video was directed by Tim Saccenti and released Jan. 20.
"'Screaming Suicide' addresses the taboo word of suicide. The intention is to communicate about the darkness we feel inside. It's ridiculous to think we should deny that we have these thoughts. At one point or another I believe most people have thought about it," the band wrote on Twitter.
"To face it is to speak the unspoken," Metallica frontman James Hetfield said in an article on Billboard.com. "If it's a human experience, we should be able to talk about it. You are not alone."
In May 2022, Hetfield talked about his own anxiety at a show in Brazil.
"I've got to tell you, I wasn't feeling very good before I came out here … feeling a little bit insecure like 'I'm an old guy, can't play anymore' – all this bulls*** – that I tell myself in my head. So I talked to these guys, and they helped me … as simple as that. They gave me a hug and said, 'Hey, if you're struggling onstage, we've got your back.' And I tell you, it means the world to me."
According to an article on Datebook, after the admission by Hetfield at the concert, the band members walked over and had a group hug.
"And seeing you out there, I am not alone," Hetfield said. "I am not alone, and neither are you."
It isn't the first time a band has tried to address suicide with songs like "Everybody Hurts" by R.E.M., "Listen Before I Go" by Billy Eilish, and "1-800-273-8255" by Logic.
Metallica has written about addiction and mental health struggles before in songs including "Frantic," "Fade to Black" and "Sad but True" to name a few.
For decades, artists have been trying to capture the pain of depression and the reality of suicide.
With "Screaming Suicide," Metallica continues to shine a light on the darkness around depression, addiction and suicidal ideation. It accurately demonstrates the pain and chaos and the voices within someone who struggles.
Keep me inside
Keep me inside
My name is suicide
By facing the demons, the poison, and saying (or screaming) the word suicide out loud, the band is shouting to the world, it's OK to talk about it. You are not alone.
Now that I'm exposed inside
Shined a light on cyanide
I'm no longer needed here
Now you've faced your biggest fear
Once you face the fear, once you get help, once you talk about your struggles, perhaps then, you can find the help you need to live a healthy life.
Then a voice appears
Whisper in your ears
"You are good enough"

If you or someone you know needs support now,
call or text 988 or chat 988lifeline.org.
Related stories
Crystal Graham: It's been 30 years without Tina
988: 'More than a number, it's a message: we're there for you'
988 phone response designed to be source of 'hope, connection, empathy and care'
Crystal Graham: How the Goo Goo Dolls changed my life
Crystal Graham: The Ditto Movement
Crystal Graham: After I pulled the trigger
Crystal Graham: A day late, a life cut short