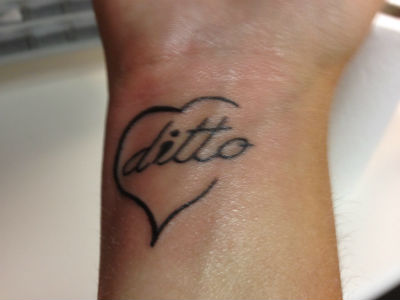 I never thought I'd get a tattoo. But last week, on the anniversary of my twin sister's suicide, I found myself working with an artist on a design that incorporated the word ditto, a semicolon and a heart.
When I got home and showed the finished tattoo to my husband, we decided to begin a journey – something we call The Ditto Movement.
If you've read my column on my sister's suicide, you know that the word "ditto" was the last communication I had with Tina before she shot herself and ended her life 23 years ago.
I've long thought about getting involved in suicide prevention in some way. When my husband and I were on our way back from our honeymoon in Key West 15 years ago, on a bus to Virginia (long story, don't ask), we talked about some of our long-term goals. Among mine was to get involved in suicide prevention, perhaps write a book.
When we got back to Virginia, life took over, and I didn't do anything at all. Every year, on September 23, when Tina's death anniversary came around, I would write a column about how much I missed her and share some of her photos on Facebook. But it ended there.
This year, I decided to get involved with the Staunton Out of the Darkness Walk to benefit the American Foundation for Suicide Prevention on Oct. 10 at Gypsy Hill Park in Staunton, Va. I'm not sure why this year. Or why now.
This year was the first year that I made her death and anniversary about something other than the norm. And I felt empowered as a result.
This year, on the anniversary of her death, I didn't cry. I had lunch with my sister at a Buffalo Wild Wings fund-raiser for AFSP, and ended the day with friends again at BWW playing team trivia and taking to a room full of supporters of the cause.
Somewhere in between two meals of boneless wings,  I sat in that tattoo chair. I knew why I was there. I had looked at numerous tattoo designs that incorporated a semicolon – a symbol of hope and continuation, and the power to move forward. But I wanted something that was more personal to me and my twin – and "ditto" was meaningful. So we combined the two.
I believe the "ditto" tattoo and the walk are the start of something much bigger. Something I won't let die on a bus ride. Something that won't die after the walk is complete.
When I returned home with my tattoo to show it to my husband, he responded in a way that was totally unexpected. He said he wanted to get the same tattoo. He was ready to be a part of The Ditto Movement.
Since I started being an advocate for suicide prevention through my work to get particpants for the walk and raise dollars for AFSP, I have had people ask me for support and resources. A high school classmate reached out and said her daughter openly talks about suicide. Another friend said his teenage daughter had overdosed on over-the-counter meds but survived. And yet another friend was admitted to Crossroads for depression. I've done my best to provide them with resources – websites with information, telephone help lines, even books to read – but I'm not an expert. Not yet, anyway. I failed Tina, but I didn't know any better.
I have a lot to learn. I didn't have the answers for my twin when she talked about suicide. I didn't prevent her death. But somehow I hope that I can learn and I can help someone else have a happier ending.
– Column by Crystal Abbe Graham